The Quiff Hairstyle: A Modern Man's Guide To An Iconic Cut
Few men's hairstyles have endured like the quiff. Flick through the history books and you'll discover that our love for voluminous hair is nothing new. The pompadour, a style from which the quiff takes its inspiration, was named after King Louis XV's mistress, Jean Antoinette Poisson, known as Madame de Pompadour, who lived during the 18th century. Whatever she achieved during her lifetime has been overshadowed by the height of the hairstyle she favoured.
The modern quiff owes it's existence to better versions of pomade and post-war icons like Elvis Presley and James Dean, who both sported versions of the style and quickly turned it into a symbol of rock 'n' roll, leading to its adoption by Teddy Boys and teen culture throughout the 1950s and 60s. Later, in the 1980s, it reappeared with a vengeance on pop stars and celebrities. This association with music and pop culture remains strong today, but it's since been adopted by all style tribes.
What Is A Quiff?
A short back and sides with a long, swept back top is the basic formula for a quiff. The hair at the front (known as the "forelock" in the trade) is left longest and can either be cut progressively shorter towards the crown, or kept the same length all over.
Robbie Burt of Sharps Barber explains: "The basics of the quiff always stay the same: maintain the front length. Where you can put your stamp on the look is how you wear the sides." Modern versions see the back and sides taken quite tight, whether you opt for a natural scissor-cut approach, a contemporary fade using clippers, or something more dramatic like an undercut.
Who Does A Quiff Suit?
Thick, wavy hair lends itself to quiff hairstyles more easily than straight, fine hair, so count yourself lucky if you've got the former. Thinning on the crown? A quiff can actually help disguise it.
This hairstyle can be adapted to suit almost all face shapes by manipulating both the length of the sides and the shape/height of the top. As always, your barber should work with you to create a style that flatters your unique features. If they don't, it's time to move on.
How Does A Quiff Differ From A Pompadour?
As previously mentioned, the quiff takes inspiration from the pompadour – the latter of which is also defined as longer hair on top that is styled up and back over the head. However, the pompadour is designed primarily to make a statement: volume and height is the name of the game, and it traditionally features a slick finish that's extremely precise (see: Elvis Presley, above).
The quiff, on the other hand, is widely seen as more versatile and lower maintenance. "The quiff can be worn in both a clean and manicured style or more in line with the natural growth and texture of the hair [i.e. work with what you've got]," says Burt. This means there's now a variation on the style for every age, profession, hair type and face shape.
The Best Quiff Variations For Men
With the advancement of barbering techniques over the years, there are now plenty of ways you can choose to wear this timeless hairstyle. Below you will find Ape's favourite takes, along with who they're best suited to.
The Classic Quiff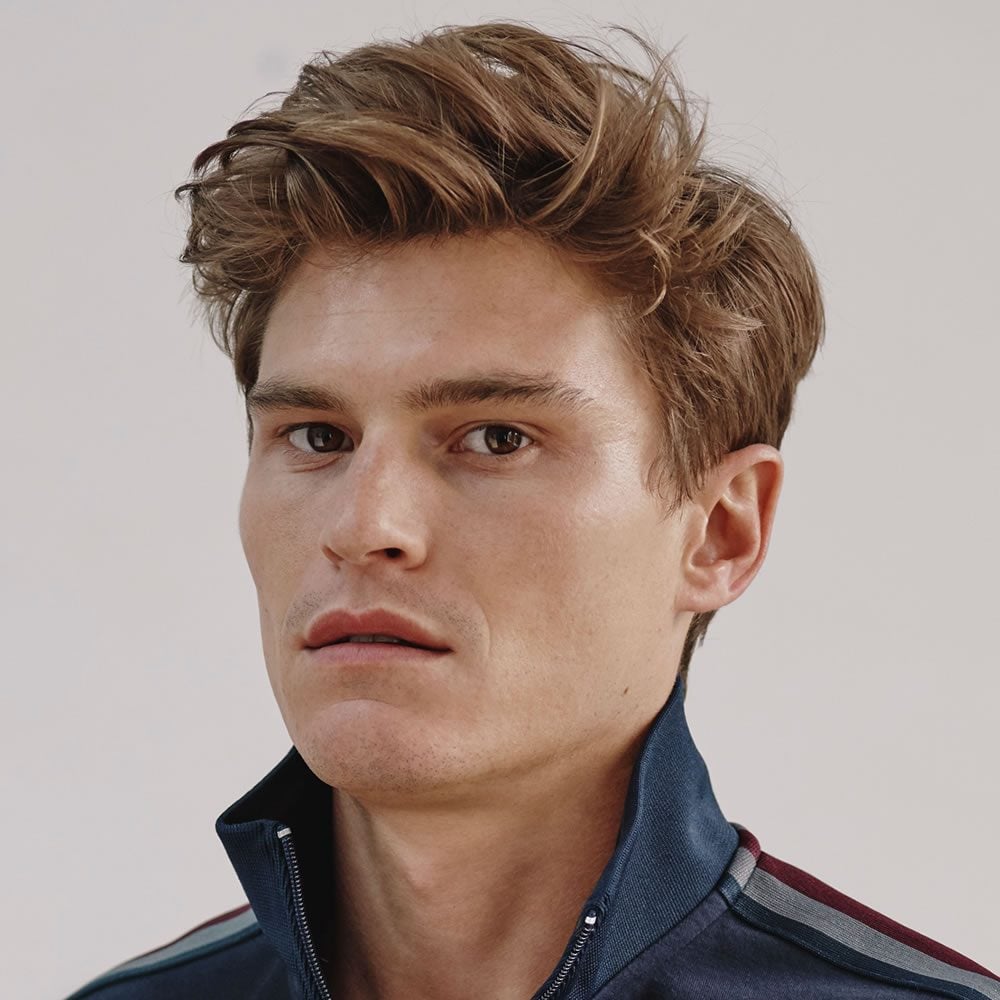 With a classic quiff there is less contrast in length between the top and the sides. The front isn't rigidly styled, either. This means you can embrace your individual hair texture and work with your natural parting, not against it, while using just your fingers to style it.
A matte finish works best with this look, says Burt, so try using a reworkable styling paste or clay. Need a current reference? Look no further than male model Oliver Cheshire (above).
Who does it suit?
It's a pretty universal cut but the longer sides can be used to bulk out long and thin faces. "Play with the height and density of the front to ensure it balances with and complements the face shape," advises Burt. As a rule of thumb, the longer and thinner the face the less volume/height you want on top, and vice versa.
Styling Products
The Disconnected Quiff
An edgy version of the classic, this requires texture in the length on top to really emphasise the contrast with the short, tight sides. When he's chosen to sport a quiff, David Beckham (above) has worn this cut well.
To style, start with damp, washed hair and then add a sea salt spray or a texture powder to the roots before blow-drying, using your fingers or a vented brush to coax the hair into its desired shape. Finish with a little bit of pomade rubbed through from root to tip if you want to add a healthy shine.
Who does it suit?
Wavy or curly hair types who want to keep all the texture up top. The closely clippered sides and juxtaposition against the top can also bring structure and angles to those with softer face shapes, such as round or heart. For this reason, men with strong, square jawlines should consider keeping slightly more length at the sides to help counterbalance their often harsh angles.
Styling Products
The Short Quiff
For men with a less than bouffant thatch, the short quiff should be your go-to style. Any height at the front can create a strong outline, even if there's less to play with around the sides and back. Ryan Gosling (above) has long worn a short quiff.
You'd do well to copy Gosling and opt for a soft, natural finish on this neat, low-maintenance style. Once your hair is washed and dry, rub a little grooming cream, pomade or paste between your palms and use your fingers to push the hair back and slightly sideways off your forehead. Alternatively, use a comb if you require a little more shape and polish.
Who does it suit?
Men who need to maintain a respectable appearance for more conservative industries such as finance and law. Fine, receding and thinning hair will benefit from a definitive shape at the front – even if your hairline isn't as strong as it used to be. Shorter cuts make the hair look thicker overall, too, so make sure you book in for regular maintenance cuts with your barber every four weeks.
Styling Products
The Rockabilly Quiff
A modified version of the pompadour, this is the original greaser look. In more recent times, Arctic Monkeys front man, Alex Turner (above), wore a very strong example around the release of the album AM. The classic elements include the "duck tail" at the back, where the two combed back sides meet in the middle, and the "cow lick" at the front (you need a strong widow's peak to achieve this), which is basically a loose lock pulled out from the front. The other way to wear it is with an "elephant's trunk": this refers to the smooth curl over around the front (for which you need a lot of length up top).
There's no getting away from it: this is a high-maintenance style. You're going to need a liberal amount of product, and quite a bit of time each morning, in order to achieve the desired effect. But there's no denying it's a statement-maker, if you get it right.
To style, start with freshly washed, damp hair and add a root-boosting powder or mousse before blow-drying the hair up and backwards with the help of a round or vented brush until you've created enough volume throughout.
A slick finish is a hallmark of the Rockabilly quiff, so once the hair is dry and in place, apply a medium-to-high-hold gloss pomade from root to tip. Comb meticulously into place and finish with a strong-hold hairspray to keep it in place all day long.
Who does it suit?
Confident types who like to stand out from the crowd. If you've a square or broad face be mindful of creating a flat top as this will emphasise broadness. In this case, sculpt a higher peak to create an elongating effect.
Styling Products