The Best Disconnected Undercut Hairstyles For Men In 2023
For the most part, hair trends come and go like the changing of the tides. Every now and then, however, one washes right up onto the fashion shoreline and stays put, forming part of the tonsorial landscape for good.
It's rare, though. The arrival of a cut that'll stand the test of time only tends to occur around once every decade. The 1950s gave us rock 'n' roll pompadours, the 1970s sewed the first seeds of androgyny with its long, shoulder-length locks, and the 2000s… well, they're probably best forgotten about altogether.
More recently, the current decade is now drawing to a close, and with the regrettable exception of the man bun, the disconnected undercut is most definitely the hairstyle it'll be remembered for.
The perfect blend of old and new, this contemporary cut mixes early 20th-century styling with ultra-modern barbering techniques. Curious? Allow us to bring you up to speed.
What Is A Disconnected Undercut?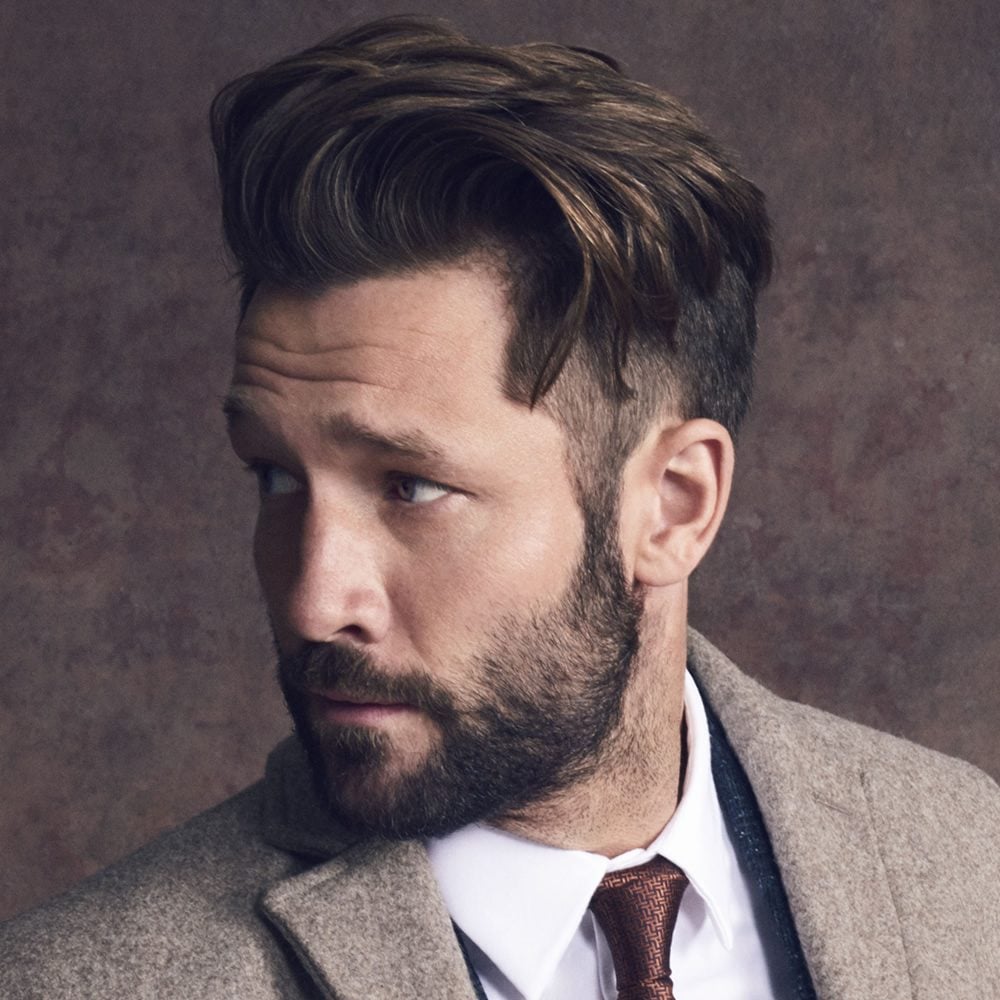 As you may have already ascertained from its name, the disconnected undercut is actually comprised of two key modern barbering elements: an undercut and a disconnect.
An undercut is essentially an extreme version of a short back and sides. The hair is taken down very short in these areas, while the top is left much longer. This enables the wearer to choose from a number of different styles using the hair that's left.
A disconnect, on the other hand, simply means that one part of a haircut is longer than another part, with no taper, fade or graduation to make them blend into one another.
The result is a trim that tends to be made up of a grade 1 – 3 all over the back and sides, while the hair on top is worked into a style. More often than not, this takes the shape of a French crop, short pompadour or quiff, but there's really no limit to how the hair can be worn – allowing it to be easily adapted to all ages, professions and face shapes.
Where Did The Disconnected Undercut Come From?
The disconnected undercut's popularity has a lot to do with the reemergence of throwback styles from the turn of the 20th century.
The hype around TV shows like Peaky Blinders is partly to blame too, but unlike flat caps, this is one trend from the Brummy drama it's worth getting on board with.
Key Disconnected Undercut Styles For Men
If you're thinking of going for this type of cut yourself but are in need of a little guidance, we can help. Below, Ape showcases a few of the most popular disconnected undercut styles for men, detailing who they work best for, and who should steer well clear.
Disconnected Undercut + Textured Crop
Tommy Shelby, the main protagonist of popular period drama Peaky Blinders, has become one of the most common pictures shown to barbers by young men looking for the perfect haircut.
The style features a tightly clippered back and sides, with a disconnect between that and the hair on top. North of the temples, the hair is styled forward into a textured crop.
This style is suitable for most face shapes. The short sides will help to slim down rounder faces, while the choppy length on top lies low enough as not to add any unwanted height for those with more rectangular bone structures. It's even a good option for those with a receding hairline as the forward lying hair can help hide a multitude of sins.
To style, take a small amount of matte hair product (think pastes, clays or putties), rub it between your palms and then use the fingers to roughly shape into place and give the mop some texture. Then, make sure to pay your barber a visit every two-to-three weeks to keep things looking sharp.
Disconnected Undercut + Slick Back
Walk into any east London coffee shop and you're almost guaranteed to see at least one bespectacled, tattooed man, sipping a flat white and sporting some variation of this haircut. Yes, a slicked-back top paired with a disconnected undercut has become the trim of choice for the modern-day hipster, but that doesn't mean you should rule it out.
This is actually a great cut for individuals with oval or rectangular face shapes. It allows length to be kept on top, but because it's kept slick to the head, it doesn't add any unwanted height.
It also has the added benefit of being extremely straightforward to style at home. Simply apply a small amount of either pomade or gel from root to tip, then run it through from front to back with a comb.
Disconnected Undercut + Pompadour/Quiff
The pompadour's enduring popularity has seen it reimagined and restyled in myriad ways over the course of the last century. Probably most closely associated with the rock 'n' roll rebels of the 1950s, it features plenty of length at the front, styled up and combed back into a quiff.
Where a traditional pomp features relatively long hair all over, all of it swept back into place, this modern version takes the back and sides close to the head with a disconnect further up.
If you have a naturally long face, this is a style to be avoided. The height on top will not be flattering and will only serve to create the illusion of more length. If you have a round or square-shaped face, on the other hand, the extra height can help to balance your proportions, making it a solid option on your next visit to the barbers.
To style, start with freshly washed, damp hair and add a root-boosting powder or mousse before blow-drying the hair up and backwards with the help of a round or vented brush, until you've created enough volume throughout. Once dry, apply a shine pomade or matte clay (depending on the finish you require) then comb meticulously into place. Finish with a dose of hairspray to help keep it there all day long.
Disconnected Undercut + Length On Top
If you wear your hair long you can still give the disconnected undercut a go. A favourite style of former Nirvana frontman Kurt Cobain, some messy length can look good when paired with a disconnected undercut below.
If you're starting with relatively short hair, you're going to need some real patience when it comes to growing your hair out – it can take anything up to six months to get it to shoulder length. But if it's a look you desire then be sure to persevere – the awkward in-between stage doesn't last long and your barber can help by taking some of the weight out (not reducing the length) in order to make it more bearable.
Once you've grown your hair all over to a length you are happy with, it's simply a case of your barber shaving the back and sides, typically taking the undercut up to the invisible line that runs from one temple and round the back of the head to the other.
Granted, it's a bold look and not one for wallflowers or those who work in corporate environments. But if you consider yourself more of an edgy dresser then it could be just the thing to take your look to the next level.