The 10 Best Suits Worn By James Bond (& How To Get The Look)
Ever since Sean Connery uttered those first immortal words "Bond, James Bond" in the 1962 flick, Dr. No, the subsequent iterations of 007 have been blessed with a seemingly innate ability to dress well, not least when it comes to tailoring.
Yes, there have been a few 007 looks that failed the test of time (we're looking at you baby blue terry cloth playsuit), but on the whole the man with a license to kill has made a pretty good job of dressing to kill, too. So without further ado, here's a run-down of our favourite James Bond suits, and what made them so special.
From Russia With Love (1963)
Flannel Chalk Stripe Suit
It was a tough call, due to the inclusion of two superb Glen check suits, but this flannel number designed by Anthony Sinclair is sublime. Known for his lightweight tailoring, this is actually a rare example of a heavy cloth, which Connery wears in Venice with aplomb.
While it's difficult to make out the exact colour on-screen, the two-button suit is actually navy and has something of a relaxed fit compared with other Connery two-pieces, no doubt thanks to the draped chest and natural shoulders, together with the double forward pleat trousers.
A bolder navy pinstripe suit would simply look too spiv-like on Bond, whereas the more subtle chalk stripe doesn't have the same city connotations – he's not a 60s stock broker but a man of espionage after all.
Quantum of Solace (2008)
Single-Breasted Navy Blue Worsted Wool Suit
You don't have to fall far down the internet's James Bond style wormhole before you're drowned in the vitriol directed towards Daniel Craig's suits. Top of the haters' umbrage is the general fit of his tailoring, which we can sympathise with. Yes, Craig's suits at times appear overly fitted, cut too short and are generally not befitting an agent of Her Majesty's Secret Service.
Craig's Bond is undoubtedly stacked, but one would imagine he wouldn't be purchasing off-the-peg so there's no excuse for ill-fitting tailoring. Nevertheless, there are still one or two gems from Craig's wardrobe, first among them being the classic navy blue worsted wool suits he wears in Quantum of Solace, designed by Tom Ford.
In keeping with Ian Fleming's vision of Bond being a man who eschewed all affectations, the suit is a minimalist delight. At first it might appear to be black, but in fact under lights midnight blue has a blacker than black quality (whereas actual black fabrics can often have a brownish tinge). However, it's the subtle details that we love here: the jacket has a three-button front but the lapel is rolled down to the middle button so it behaves like a two-button suit (known as a three-roll-two).
The trousers are also flat-fronted with cuffs, which offers a slightly less formal finish, handy when you're trying to save the world from hell-bent sociopaths.
On Her Majesty's Secret Service (1969)
Single-Breasted Glen Check Suit
It was a toss up between the three-piece Prince of Wales check suit that Connery wears in Goldfinger, or this black and white glen check number by the oft-overlooked George Lazenby – the latter won out. Controversial, we know, but compared to the Goldfinger version, Lazenby's lapels are just that bit wider and more elegant.
The glen check is a beautiful pattern and one which many Bond iterations don at one point of another but this is, for us, the exemplary version featuring a barely discernible blue overplaid which Bond complements with his trademark pale blue shirt.
The details of the jacket – that high notch lapel, slanted pockets with curved flaps, and deep side vents – give the suit an elegant modernity which would have been quite 'fashion' at the time. While Lazenby gets few plaudits for his showing as James Bond, his style is fantastic and this two-piece designed by Dimi Major is perhaps the pick of his wardrobe.
The Man With The Golden Gun (1974)
Off-White Dinner Jacket
The Man with the Golden Gun is a trove of great tailoring (this list features three such gems), with Roger Moore spinning quite the adventurous tropical wardrobe on the hunt for Scaramanga.
Our favourite has to be his first of three off-white dinner jackets, cut from a beautifully slubby dupioni silk which offers an almost linen-like textural finish, perfect for the Asian setting.
Everything about the cut is very Moore-ish, from the classic double-breasted six-button front to the gently padded shoulders and slanted, jetted pockets. The peak lapels are wide but perfectly proportioned, which is perhaps more than can be said for the slightly flared black satin stripe trousers (this is 70s Bond after all).
No Time To Die (2021)
Tan Needlecord Suit
Bond diehards might find this to be a contentious choice, but the tan corduroy suit he wears to pay respect at Vesper Lynd's grave in Daniel Craig's last outing as Bond is notable for many reasons.
Made by Massimo Alba, it's somewhat surprisingly the first corduroy suit that Bond has ever worn. Unstructured and cut in a fine needlecord, the suit perfectly matches the southern Italian setting, being at once rugged and relaxed. Despite being corduroy, the cloth is still lightweight and purposed for the summer.
As for the cut, the sporty jacket features typically Italian soft natural shoulders with a button-two, show-one front fastening (where the lapel rolls to the second button like on a button two suit), which is pretty common on unstructured Italian suits these days. Smart enough to visit a grave but rugged enough to bungee from a bridge.
Interestingly, Bond pairs the suit with a cornflower blue button-down shirt (by Brunello Cucinelli), again showing his more casual credentials and a nod to that classic Italian concept of sprezzatura.
On Her Majesty's Secret Service (1969)
Single-Breasted Cream Linen Suit
Whereas Sean Connery's Bond laid down the main tenets of the 007 wardrobe – tailoring in grey, navy or very occasionally brown – Lazenby ripped up the rule book by striding firmly into Her Majesty's Secret Service in a natty cream linen suit, perfect for the summer.
It set the tone for a more fashionable, contemporaneous Bond thanks to the suppressed waist, shorter jacket length, slanted pockets and darted-front trousers, and was made by the Fulham-based tailor Dimi Major.
There are a few elements that have not aged well, such as the single-button jacket cuffs, but overall this suit would fit right into a smart Mediterranean setting today.
You Only Live Twice (1967)
Dark Blue Single-Breasted Suit
Ian Fleming's original vision for Bond more often than not saw the literary character in a navy blue suit ('dark blue tropical worsted', in the words of Fleming himself), a short-sleeve shirt and slip-on shoes. However, Connery's Bond (perhaps a reflection of the times) preferred grey suits, long-sleeve shirts and Derbies.
Yet Connery reverts to the original in a beautiful dark blue suit when paying a visit to Osato's Tokyo office in You Only Live Twice. It's thought by Bond style aficionados that the suit is most likely a blend of mohair and high-twist wool, which is a great combination for warmer climes, plus the high-twist factor means minimal creasing when travelling.
This version may also be the first example of Bond wearing a single-button closure on anything other than a tuxedo, whereas these days you'll find single button single-breasted jackets made by just about everyone with any merit thanks to the proliferation of a minimalist aesthetic.
The Man With The Golden Gun (1974)
Double-Breasted Flannel Chalk Stripe Suit
The second flannel chalk stripe on the list, but we couldn't leave it out. In fact, it's actually our pick of the two, being that much more rakish than Connery's sterling effort in From Russia With Love.
In this case, it's Moore's flamboyance that steals the show in his double-breasted grey flannel chalk stripe. Cut using Bond's favoured 'button two, show three' style, it boasts wide peak lapels, deep side vents and angled pockets with flaps. There's a certain 70s outrageousness in the slightly flared cuffs but we'll turn a blind eye to that.
The drape through the chest is stunning and the length of the jacket is about perfect. There's no mistaking that this type of suit is very 'business' but Moore is able to add a great deal of character to it, thanks in part to the pink pinstripe shirt and bold red tie combo.
Dr. No (1962)
Midnight Blue Tuxedo
Dr. No is famous for many a Bond summer look but rarely is it noted for the tailoring. Yet the very first time we witness Sean Connery's 007 he is wearing a delectable midnight blue dinner jacket with equally delicious black satin silk lapels and matching turn-back cuffs.
If there was ever a Bond scene that married the spy with sophisticated evening dress then it's this one. He pairs the tux with a narrow matching bow tie, and wears a pleated shirt with classic turn-down collar, finished in the minimal Fleming style with a slither of neatly-folded white linen pocket square.
Accessorised with a vodka martini, naturally, and a taxpayer-funded gambling habit.
The Man With The Golden Gun (1974)
Double-Breasted Olive Suit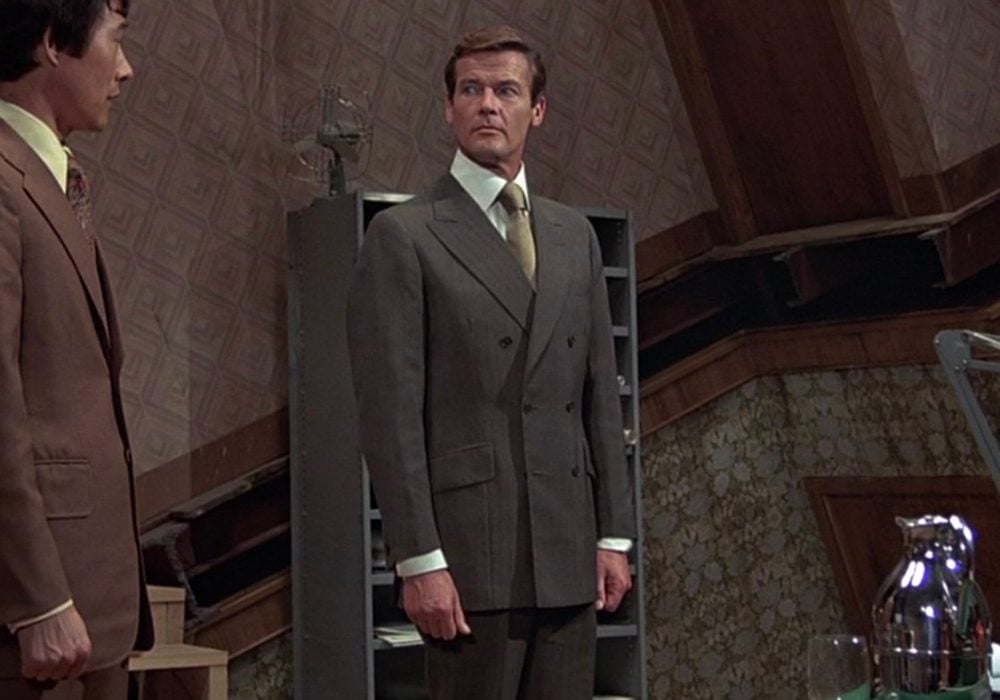 When Roger Moore took over the mantle from Sean Connery it was clear that he wanted to distance himself from the somewhat minimalist grey and navy wardrobe that the latter's Bond seemed to favour. What's more, Moore was also the first Bond to wear a double-breasted two-piece suit (in Live and Let Die) and as such the DB lived and died with Moore's iteration of the spy.
One of the more avant garde styles was this olive two-piece in The Man with the Golden Gun, made by Cyril Castle. It actually features a tonal multi-stripe with a barely discernible red chalk stripe, which Moore complements with a cream and gold bengal stripe shirt with a spread collar of biblical proportions.
The fit is right on the money, with the lapel sitting flush against the shirt and flat across the chest. Of course, there is one major flaw to the double-breasted suit jacket when you have a license to kill – trying to quickly retrieve your Walter PPK from your shoulder holster.