8 Spirits That Are A Perfect Match For A Cigar
The pairing of a cigar with spirits is a match made in heaven. The combination is classic and there are few better experiences as you sip, smoke and relax. Many see the dark and sweet flavours of an aged spirit as the perfect combination for the spicy and warming notes of a good cigar.
But you cannot simply pour any spirit for this to work. There are basic principles to follow.
It is all about balance – you do not want the cigar to overpower the spirit and vice versa. The nuances of a delicate spirit are easily crushed by the smokiness of a cigar. Equally, if the spirit is too intense then all but the strongest cigar can get lost. If they complement each other, then both will be better for it – bring out new characteristics and notes you might not have noticed before.
Here we have selected eight spirits that will work perfectly to enhance your enjoyment with different styles of cigar.
Ardbeg 8 Years Old: For Discussion
Scotch whisky and cigars is a perfect combination. Ardbeg is peaty and smoky but sometimes this style can clash with a milder cigar. However, with a robust cigar a smoky whisky really shines. This Ardbeg hits the spot due to its maturation in ex-sherry casks, which tempers the fiery smokiness a little and adds a delicious richness and sweetness.
For Discussion is a limited edition and only available to Ardbeg Committee members – the Committee is free to join and one of the best whisky fan clubs out there to be part of.
This is a stunner so grab it while you can.
Del Maguey Vida
Mezcal may not be the first spirit that you think of for your cigar, but the deep earthy tones work very well. Mezcal is like tequila, its better-known Mexican sibling. Both are made from agave – in Del Maguey's case it is 100% organic agave – but tequila must be produced in a specific geographical area. Mezcal can be made anywhere else in Mexico.
Vida has been on the market for over a decade and is a handcrafted beauty, distilled twice in traditional open fire stills. The quirky packaging just adds to the charm.
Best suited to a milder style of cigar.
El Dorado 21 Years Old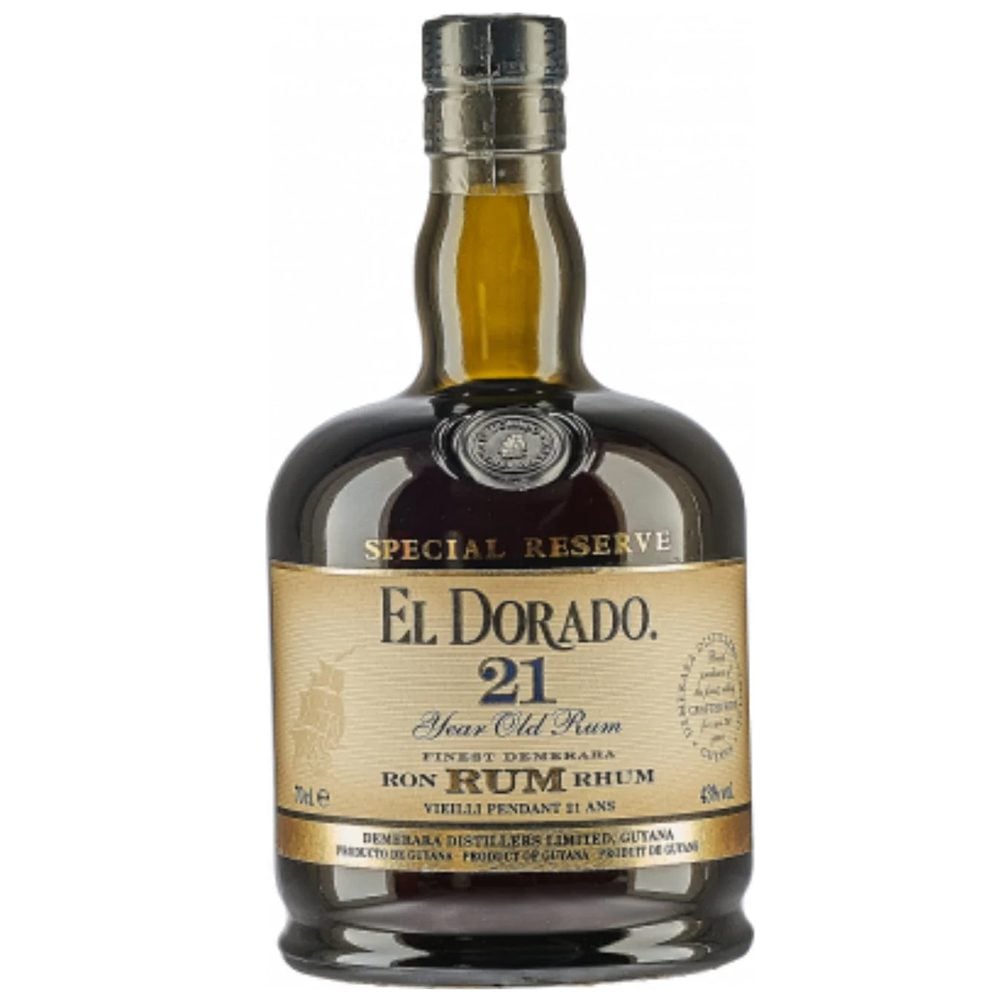 Gold rum is a sublime match for any cigar – the vibrant sweet notes expertly balance the savoury and spicy warmth. El Dorado is somewhat of an undiscovered gem outside of tight rum drinking circles, but they have a superb range of rums.
The brand is located in Georgetown, Guyana (South America) and named after El Dorado, a legendary king who was said to dust his body with gold. Expect luscious and sweet tropical fruit notes with hints of baking spices, brown sugar and honey. Full bodied, rounded and deep in flavour.
Now which cigar will you choose?
Havana Club Edición Profesional B
When one thinks of cigars, most will instantly think of one place: Cuba. The island in the Caribbean is famed for its hand-rolled cigars and awash with famous names such as Romeo y Julieta, Montecristo and Cohiba. Havana Club is Cuba's largest rum brand, so it makes sense that both exports would be the perfect match.
This superb dark rum is the second Edición Profesional, a range designed to push the boundaries of Havana Club rum. The delicious marriage of three rums, one of which was finished in ex-Islay Scotch whisky barrels, has distinct peaty notes that match superbly with most cigar types.
Hine Antique XO
Hine is one of France's oldest Cognac houses and takes its name from Thomas Hine, an Englishman who inherited his father-in-law's luxury Cognac business in 1817. Hine has an esteemed reputation and is the official Cognac supplier to the British Royal Family.
The rich, sweet and fruity flavours of Cognac is a classic accompaniment to a cigar, complementing the warm, spicy tobacco notes exquisitely. The Antique XO uses only old eaux-de-vie from the premier Grande Champagne cru and offers a delectable array of sublime characteristics.
Patron Añejo
The earthy and smoky qualities of a good tequila make it a strong proposition to pair with a cigar. The balance works well with everything but the most robust cigar.
Patron heralds from the mountains of Jalisco, Mexico deep within tequila's geographically denominated region. They undertake a slow three-day distillation, which adds incredible depth to the spirit.
Añejo simply translates as 'aged' in Spanish and this Patron has been matured for 12 months in American oak barrels. The result combines a warming earthy smokiness with sweet notes of vanilla, honey and caramel.
Redbreast Lustau Edition
Irish whiskey, particularly the richer styles with an ex-sherry cask influence, is great when paired with a cigar. And the best of these is undoubtedly Redbreast.
The multi award-winning brand is the pinnacle of the single-pot-still style, which is unique to Ireland and made using malted and un-malted barley. The Lustau Edition has seen Redbreast partner with esteemed sherry bodega Emilio Lustau, hailing from Jerez, Spain.
The result is fruity and nutty with a delicious mix of warming woody spices. These notes are heightened further once a cigar is brought into play. Stunning.
WhistlePig 10 years old
Straight rye whiskey is an excellent shout for cigar pairing. The earthy spiciness generated by the rye grain complements similar notes that evolve as you smoke.
There are few better examples of straight rye than Whistlepig. The small farm distillery, located in the American state of Vermont, has quickly become the world's most awarded rye whiskey. This 10-year-old is amazingly deep and complex with notes of caramel and vanilla mingling with toasted oak, all-spice and orange zest. A late hint of mint elevates this beyond its competitors.