The Best Whisky Bars In The UK Right Now
Whisky bars can conjure up a certain image – shelves of dusty bottles, an intimidatingly large choice for the uninitiated and a roaring log fire in the corner. An environment for the hardcore drinker or whisky connoisseur.
But in the last decade new bars have appeared that are drastically changing this perception. So, whether you simply wish to pop in for a quick dram, go for a tutored tasting event or learn what you like, there's now something for everyone.
We look at nine of the best that can be found across the UK, from traditional to dynamic and groundbreaking.
Black Rock, London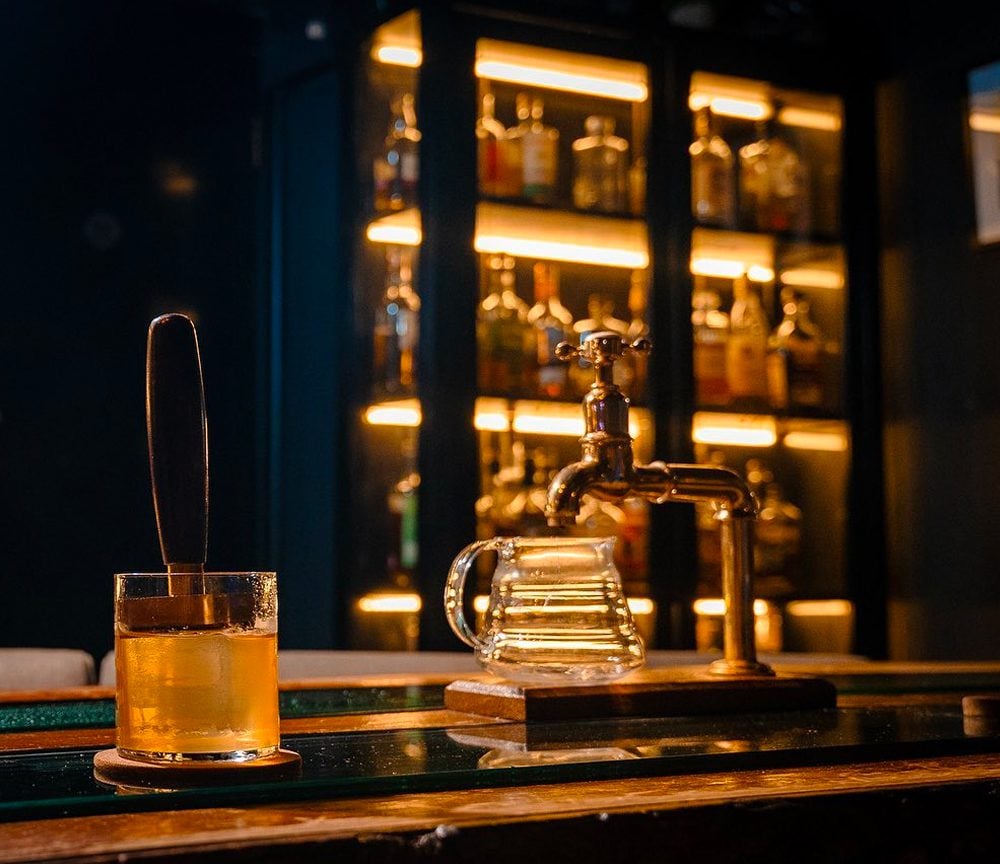 This trendsetting bar in The City of London is a must visit for any self-respecting whisky fan. They do things a little differently to traditional whisky bars – they list and display whiskies by flavour profile, rather than location. Choose your style and you will find several Scotch, Irish, American and new world whiskies vying for your attention in the same cabinet.
Black Rock's aim was to aid customers with their choices, and it was a true game changer. Many have followed suit, arranging their menus in a similar way. They also offer a range of classic cocktails and the opportunity to blend your own bottle of whisky under the tutelage of one of their experts.
9 Christopher Street, London, EC2A 2BS; blackrock.bar
The Bon Accord, Glasgow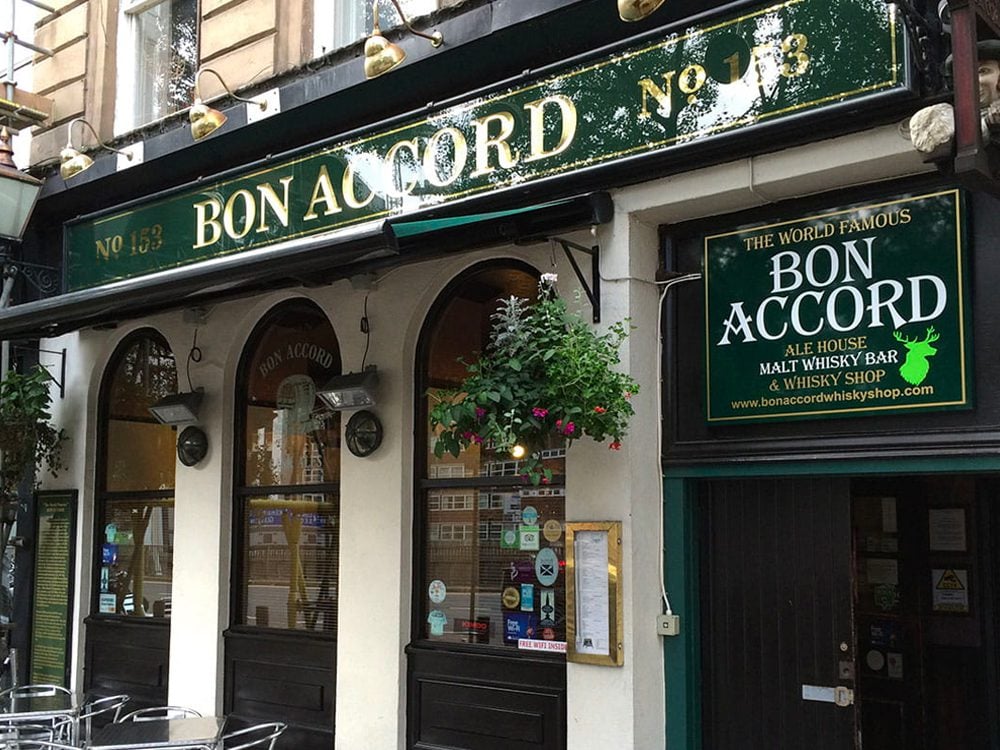 On the outskirts of Glasgow city centre is The Bon Accord. This legendary whisky bar has an old-school pub vibe but with a mega selection of Scotch available. Regular expressions sit alongside new bottlings and rare expensive offerings, which are all competitively priced. A highlight is the extensive range of single casks from the Scotch Malt Whisky Society.
This excellent bar has a friendly welcome and is well worth the extra walk out from central Glasgow. The food is simple fare, but hearty and tasty – pie and mash is a real winner. The combination of great whisky and homely atmosphere will make any evening slip by in the blink of an eye.
153 North St, Glasgow, G3 7DA; bonaccordpub.com
The Bow Bar, Edinburgh
There are plenty of whisky bars and venues dotted around Scotland's capital, but few have the charm, selection and atmosphere of The Bow Bar. A thick whisky menu will assist you in making your choice of dram, which ranges from the well-known to the quirky indie bottling. This is updated regularly to feature new releases.
The breadth of their range and its pricing, especially considering its central touristic location, are both impressive. The Bow Bar offers a superb range of local craft beers and is also dog friendly. If you are ever in the Grassmarket area of Edinburgh, then you must pop in for a dram and enjoy the friendly vibe.
80 W Bow, Edinburgh, EH1 2HH
Grain & Glass, Birmingham
Tucked away in Birmingham's trendy Jewellery Quarter is Grain & Glass, the city's first dedicated whisky bar and tasting room. With over 300 whiskies to choose from and a selection of classic or creative cocktails on offer, you will be spoilt for choice. A whisky menu and superbly knowledgeable staff will guide you on your whisky journey.
Add in a bespoke tasting room and an interactive membership scheme, then founder Amy and her crew have a whisky gold mine on their hands. Not only that but Grain & Glass also run two annual whisky festivals in the city: Whisky Birmingham and the Independent Whisky Market, the UK's first whisky festival dedicated exclusively to independent bottlers.
75-80 Vyse St, Birmingham, B18 6HA; grainandglass.co
The Highlander Inn, Craigellachie
You will find many examples of the classic 'whisky pub' dotted around rural Scotland, but few are better than The Highlander Inn in the Speyside village of Craigellachie. Located just a short distance from the Speyside Way walking trail and the village's distillery, this pub offers the warmest of welcomes.
The multi award-winning bar has an extensive selection of Scotch whiskies and one of the biggest collections of Japanese whisky in the UK. This has been collated by owner Tatsuya, who fell in love with the Highlander Inn while working for a whisky brand from his native Japan. He later went on to buy The Highlander and the rest is history.
10 Victoria St, Craigellachie, Aberlour, AB38 9SR; whiskyinn.com
The Malt Room, Inverness
The Malt Room is the epitome of the modern whisky bar: achingly cool, compact, a great whisky selection, slick furnishings and finished to high standard. It's the type of bar that Inverness, which is surrounded by several distilleries and boasts the Speyside region on its doorstep, had been crying out for years.
A tasting room is also available upstairs which hosts tutored and brand-led events and musical whisky gigs. Add in a good mix of classic whisky cocktails, local craft beers and a creative set of whisky flights and The Malt Room is a place not to be missed when in the area. A real Highland hotspot.
34 Church St, Inverness, IV1 1EH; themaltroom.co.uk
The Pot Still, Glasgow
If you want an archetypal old-school whisky bar, then The Pot Still is it. The place is a Glasgow institution and known the world over amongst whisky fans, many of whom make their pilgrimage to it when in Scotland. The selection of Scotch whiskies is vast, reaching up to the ceiling – ladders are used to reach them – and it always seems to have a buzz about it.
The bar literally oozes whisky from its pores and the helpful staff will aid you with your selection from the vast array. Whisky is the focus, but they do also offer a simple yet great Scotch pie. This award-winning bar is often packed but not to be missed when in Glasgow. Simply walk up Hope Street from Central station and you cannot miss it.
154 Hope St, Glasgow, G2 2TH; thepotstill.co.uk
Sexy Fish, London
Like Japanese Whisky? Then you need to visit Sexy Fish in Mayfair. The central London bar boasts the world's largest collection of Japanese whiskies, which can be sampled by the dram or as part of a classic or contemporary cocktail. Add in a Japanese- and Asian-inspired menu and sushi bar, and you are in for the ultimate whisky-related treat.
Sexy Fish is modern and highly designed with an air of mid-century opulence, featuring artworks by Frank Gehry and Damien Hurst amongst others. For that extra special occasion you can hire The Coral Reef Room, home to two of the largest living coral tanks in the world. Order your whisky, sit back, and enjoy the luxurious ambience.
Berkeley Square House, Berkeley Square, London, W1J 6BR; sexyfish.com
The Toucan, London
At street level, London's The Toucan bar does not look like much. But head down the stairs to the right of the entrance and you are in one of the capital's true hidden gems. There you will find a true homage to Irish whiskey. The quirky basement bar has over 300 whiskeys from the Emerald Isle with everything from big everyday names to the highly rare and collectable.
The Toucan, named after the bird used in old Guinness advertising, is bijou and decked out with memorabilia from the brand's iconic marketing past. It has a retro charm and there is nowhere quite like it. They also pour one of the best pints of the black stuff you will find in London. A place to sit, sip and savour.
19 Carlisle St, London, W1D 3BY; thetoucansoho.co.uk