How Valstar Became a Staple of The Stylish Italian Wardrobe
Valstar – The King of Italian Outerwear
If you're a gentleman who appreciates a bomber jacket, read on. If you're not, you should be. The bomber jacket is a truly universal piece of menswear – whether worn as a smart casual alternative to a blazer or more casually with jeans and sneakers, they look superb whatever the occasion. And if you do buy into the bomber jacket concept then you need to consider Valstar – for no one does it better.
Founded in Milan, in 1911, Valstar quickly built a reputation for fine-quality outerwear. Originally a manufacturer of rainproof outdoorwear in heavy cotton fabrics, the brand found its calling in the mid-1930s. Focusing on luxury leather flying and driving jackets for Italy's wealthy, Valstar cemented its place in sartorial history in 1935 when it introduced a cleaner-cut, Italian-style version of the iconic American A-1 military flight jacket, named the 'Valstarino'. Crafted from sumptuous goat suede, it boasts two flap pockets, horn buttons and a knitted waistband, stand up collar and cuffs. All handmade in Italy, it's a piece of true craftsmanship and a staple of the Italian wardrobe.
Ape had the pleasure of catching up with Matteo Bozzalla, Designer and CEO of Valstar to learn more about this iconic Italian brand. Who better to tell the story?
Ape: We've touched on Valstar's history but can you relive it from your perspective as a proud Italian?
Matteo Bozzalla: We cannot give up to our legacy! Valstar has always grown thanks to its continuous research of performing fabrics, innovations in craftsmanship and commitment to the Italian sartorial tradition. All Valstar garments have been influenced by our Italian legacy; we grew up among beautiful landscapes, lovely cities, places of culture and amazing masterpieces. All these aspects inspire our daily work and our garments. 
Heritage is a key characteristic of Valstar, for us the Heritage is having a name that give you the freedom of going further ahead.
The 'Valstarino' jacket based around the A-1 has become iconic, what are its key attributes?
In 1935 a worldwide Icon was born: the Valstarino. The iconic suede leather jacket is a modern, sporty take on the A-1 blouson that was originally a military flight jacket worn by American fighter pilots.
Looking at the WW1 American fighter pilots and their stiff leather uniform (A-1 bomber) Valstar decided to reinterpret the style through its Italian taste, sartorial skills and passion, adapting it from a military use to an extremely comfortable and pleasant civilian leather jacket.
The A-1 suede bomber jacket is considered the forebear of all the other bomber jacket, in all its many forms. That is the reason why the Valstarino is considered an icon: it is the first one, the authentic one and the original one. The Valstarino gave its name to a whole product category.
The jacket is easily recognisable thanks to its two front button-flap pockets, knitted cuffs, waistband and stand up collar (that can be in cotton, wool or cashmere depending on the seasons), and its horn buttons instead of zip. The creation of the icon is completed by using only the finest selected leathers.
Why do you think military wear has had such a wide ranging influence on menswear?
First of all, clothing was a smart way to protect yourself and work safely. Consequently all the military garments were perfectly engineered and further improved by their extreme usage. The Valstarino is one of the best examples and one of the most ancient one. Adapted to a civilian use, all military garments are timeless and extremely comfortable.
We hear Valstar items are produced entirely in Italy, and handmade. How important is this to you and the brand?
After more than 100 years of history, the production remains entirely handcrafted and 100% made in Italy. The handmade process, thanks to our expert artisans, is key to the success of our brand. Just their expert hands and eyes can create something really unique that no automatic machine will ever be able to replicate! 
Valstar epitomises the great Italian tradition and passion with its Made in Italy production, maniacal attention to quality, artisanal workings, attention even to the smallest detail, and the continuous pursuit of excellence. We love beautiful things done well and our core of business will always be product driven.
How and when would you wear and Valstarino, style- and season-wise?
The iconic suede Valstarino is a very versatile jacket. You can wear it both in winter and summer; you can pair it with a casual sporty look [try chino pants and a white T-shirt] but also with a more formal one [think a business casual flannel pants, Oxford button-down shirt and tie combination]. The different versions – unlined, lined and padded – can really guide you through all the year. Moreover, the suede leather is extremely breathable, elastic and not so delicate in case of rain.
Obviously the brand is famous for the Valstarino, but what else is in its latest collection?
Next to our iconic Valstarino, the other masterpiece is our "Milano" trench coat. Valstar was born in Italy in Milan, the cradle of style and fashion, in 1911 and has survived two world wars. Valstar is the first company in the country producing an authentic raincoat. It can be said that the first true raincoat made in Italy, as we know it today, is a Valstar.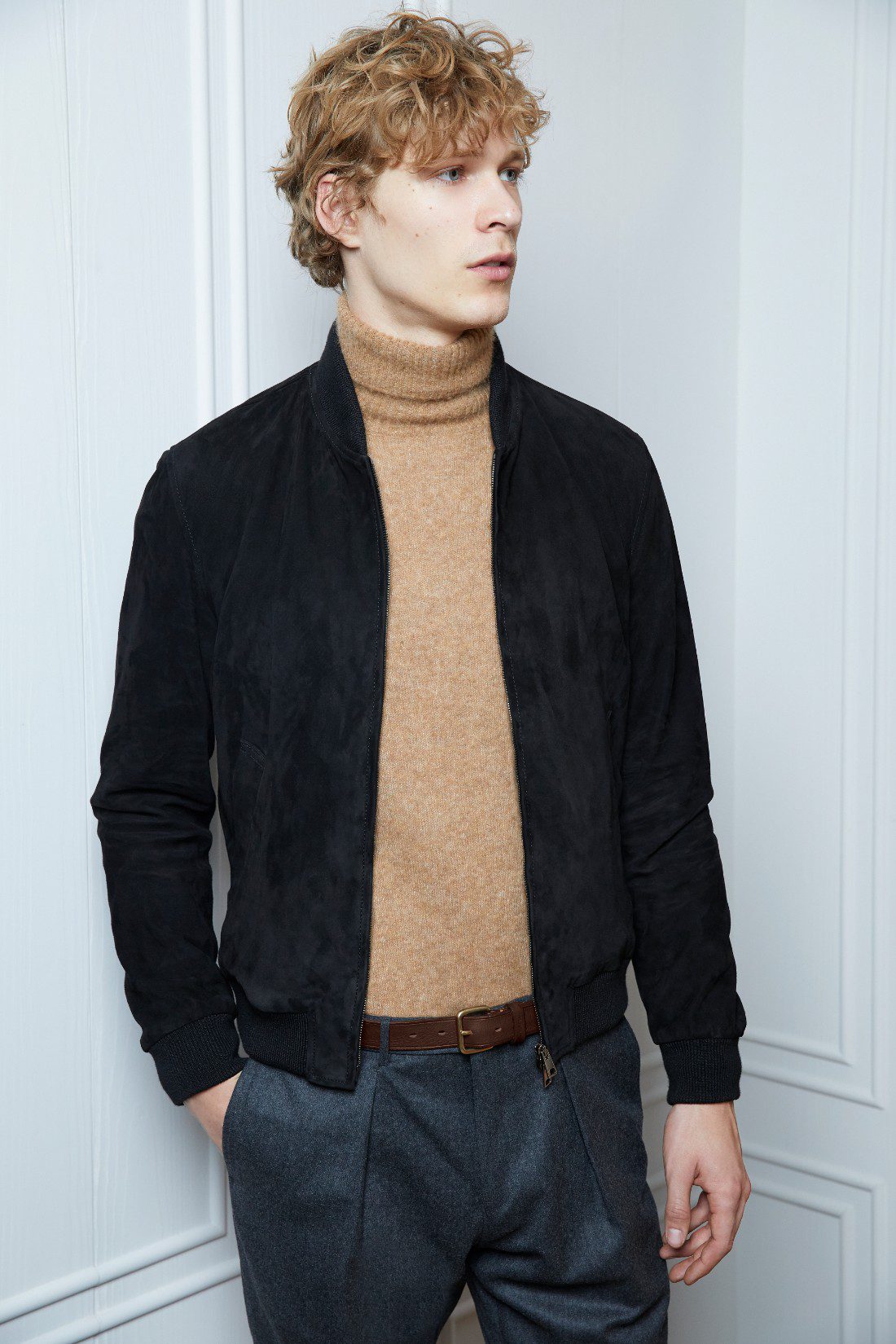 What's next for Valstar?
The Valstar Team is working hard to always improve our styles, quality and services. We are fully committed to become the leading Italian, made in Italy, outerwear brand.
What does a typical day look like in your life?
I do not have a typical day, the world is always changing and we need to change with it day after day. Customers always have different needs, different ways to receive the garments, different channels to get in contact with the brand and our customer care. We need to read, to share ideas, to listen to different points of view. Every day is different from the others because of the countries you visit and the people you meet.
If you had one piece of advice for anyone, Valstar related or not, what would it be?
Create a good Team. The secret of Valstar is the people behind it, they are the most valuable resource. There is nothing worthwhile that you can do by yourself.