Small-Screen Style: The Best-Dressed TV Characters (And What We Can Learn)
Good TV doesn't necessarily mean good clothes. Whilst the Sopranos is an undeniable masterpiece, it's hard to vouch for Furio's baggy contrast sleeve shiny shirts and everyone else's oversized leather jackets. The same could go for Breaking Bad (keep yellow hazmat suits for Halloween), Game of Thrones (absolutely not) and a whole host of highly watchable shows we've binged to death over recent months.
However, there are some superb TV shows which also feature incredible menswear as an added bonus – and by watching them you could learn something. Here's a few stylish characters worth taking inspiration from.
Don Draper (Mad Men)
Topping the list is the lead from, in our opinion, the most stylish television series of all time. Everything from the interiors to the office glassware are a work of art in this 1960s set masterpiece, and leading the style charge through all seven seasons is Don Draper (John Hamm). Where to begin with the outfits?
The tailoring. John Hamm is a stocky guy and the suiting chosen for him is perfection. The trademark sharkskin two-piece with a pristine slightly higher-waisted trouser; the midnight blue two-piece he pitches the Jaguar E-type in; and brighter, less conservative trouser and blazer separates that coincide with trips to California in the later seasons.
But it's not just about tailoring. The pyjamas are perfection, the ties widen as the series progresses, hats come and go as neat pomaded hair eases up and a change of scenery from New York ushers in bowling shirts, irresistible light slacks and even a short pair of paisley swim shorts twinned with a modern squeezed sunglasses silhouette. A tour de force of style that hasn't been matched since.
Harvey Spectre (Suits)
A lot of entries on this list owe their inclusion to suiting and no-nonsense New York City lawyer Harvey Spectre is rarely seen out of his tailored armour.
Spectre is all about the commanding business lounge suit. It's serious tailoring, there's no playfulness. We're talking corporate grey, charcoal or navy; wider lapels for a broader presence; side vents; and a raised Milanese buttonhole. His dress shirts are classic and pared-back throughout while wider tie knots add to Spectre's robust presence.
Perhaps most surprising is the continuous presence of a waistcoat. This Marmite piece is tricky to get right but with a self-assured rampant bravado, Spectre is able to pull it off no problem.
Tommy Shelby (Peaky Blinders)
The show that inspired a haircut revolution, not to mention a host of Northern spin-off bars, a new uniform option for stag dos and a brief acceptance of one of the country's worst accents (this coming from someone born there).
Cillian Murphy was there to showcase it all with cheek bones that sadly didn't come as standard for anyone else who invested in a disconnected undercut and penny collar shirt. Bravo to the costume team though, an originally modest-budget BBC series inspired a genuine style movement.
Tommy Shelby looks fantastic throughout. Long, prominent lapel overcoats, iconic three-piece suits in itchy looking tweeds and checks, peaked baker boy caps and the odd pocket watch chain thrown in for good measure. Like or loathe the hordes that have copied his haircut, it's a modern classic for a reason.
Nucky Thompson (Boardwalk Empire)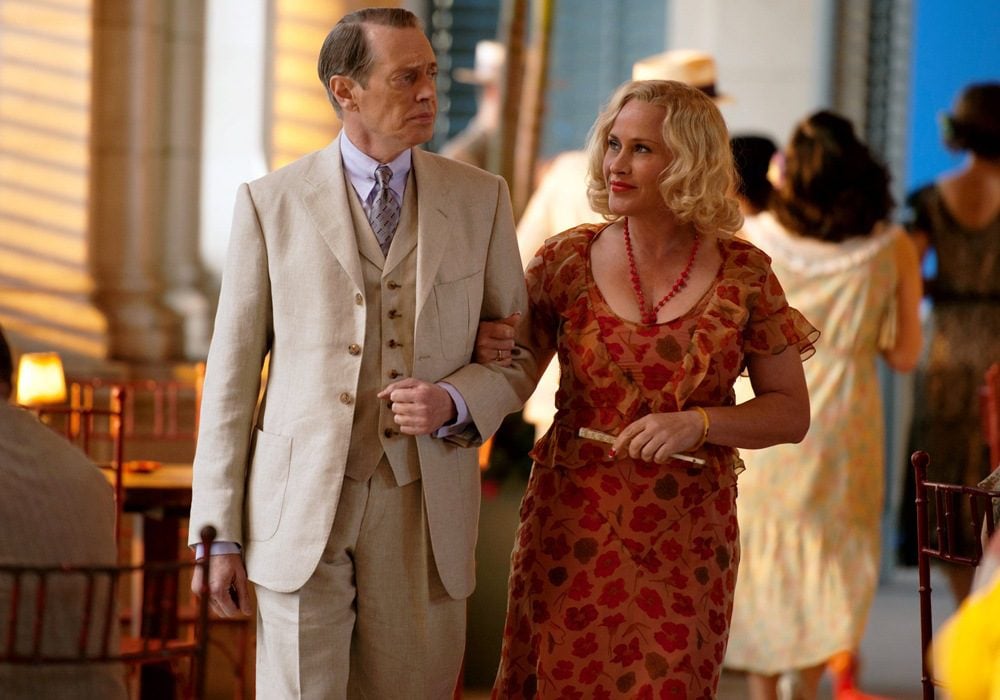 From Peaky Blinders to what is essentially the Hollywood equivalent. Another masterpiece of early 20th century design, Boardwalk Empire channels similar three-piece tailoring, penny collars and an array of fantastic hats, albeit with a more luxurious upper echelon crime feel than Peaky Blinders.
Whilst there's plenty of stylish characters throughout, notably Michael Pitt as Jimmy (fantastic hair) and Vincent Piazza as Lucky Luciano (light suits), it's Steve Buscemi as Nucky Thompson who steals the show.
Whilst his suits may have been slightly too outlandish and luxurious to influence current day fashion trends, the sheer cojones portrayed in the bright but imposing tailored checks and stiff white contrast-colour shirts are a statement. The addition of a carnation in the lapel here and there put the cherry on the sartorial cake and the emphasis on his wet shaves and shoe shines prove that Thompson knows style is power.
John Luther (Luther)
Whilst others on the list are more diverse dressers, we're featuring Idris Elba's John Luther for essentially one great outfit: a speckled grey, full-length overcoat with an imposing silhouette layered over a classic two-button grey suit, blue shirt and red tie.
Navy blue trousers anchor it all but your eyes never really stray from Luther's top half. It's a muted ensemble but one repeated throughout the series and is a shining example of why it's worth developing your own signature look for a day to day basis.
Kendall Roy (Succession)
The HBO comedy-drama based on the Murdoch family, apart from being one of the best shows of recent years, is also a welcome addition to the TV shows with great tailoring club. Yet we've picked out Kendall specifically because he's the perfect example of luxury casualwear.
Of course, money doesn't buy you taste – and if you've got the money it's easy to just ask a tailor to make you look good in a suit – but what Kendall Roy highlights is the ability to dress well away from the safety net of office uniform.
There's no branded clothing here, no rush for fashions (aside from a badly-judged pair of Lanvin sneakers that were worn as power play to woo a tech startup) – it's all largely muted, high-end casual pieces. Lightly quilted bodywarmers are layered under sports jackets when on the move, comfortable brown linen pieces help to stay cool in the sun on the private yacht and sleek cashmere knitwear ensures Roy stays put together while travelling via private jet.
It goes to show that unstated, premium quality clothing shouts just as loudly as garish, branded pieces when it comes to proving your personal style and wealth.
Billy Butcher (The Boys)
Moving into sci-fi territory now and Billy Butcher's long pop-collared coat has caught our imagination. Sturdy construction, solid fabric and satisfyingly large lapels make for the sort of charity or vintage shop find that dreams are made of.
But it's not just the coat. Butcher's penchant for a good Cuban collar shirt hasn't gone unnoticed and proves that muted floral prints can still look extremely masculine when combined with a darker surrounding pieces and a great beard.
Darius Epps (Atlanta)
From tailoring to a final destination of streetwear, Darius Epps – Paperboi's quirky sidekick played by Lakeith Stanfield – delivers some serious looks in Atlanta. Although Darius's all-time best moment is his bit of DIY styling, upscaling a cheap, hardware store 'SOUTHERN MADE' confederate flag baseball cap into 'U MAD', there's plenty of adventurous and well-executed looks on offer.
Eye-catching open camp collar shirts, panelled rugby tops and personalised denim jackets are particular highlights, but everything he wears is curated with a creative personal touch. It goes to show that eclectic style can work if you wear it with confidence and it represents who you are as an individual.