The leather jacket has come a long way in the past 70 years. Once a hallmark of rebellion, this rock 'n' roll favourite has earned itself a place as one of menswear's coolest pieces of outerwear. Back in the 1950s it was made famous by the likes of Marlon Brando and James Dean, but today you don't need to be a chain-smoking biker with a Brylcreem'd pompadour in order to pull one off.
That said, don't think for a second the leather jacket has lost any of its attitude over the years. It might boast the same level of versatility as a good pair of jeans or well-made boots, but this cowhide classic is still badass through and through.
While it is definitely one of the best clothing purchases you're ever likely to make, it can also be one of the trickiest. So, before you get yourself leathered up, here's everything you need to know about fashion's favourite bad-boy icon.
Picking The Right Style Of Leather Jacket
Not all leather jackets are created equal. Different styles can be better or worse suited to certain wardrobes. Below are the most common types of leather jacket you're likely to come across, and how you can tell them apart.
Biker
If you were to look up the term "leather jacket" in an illustrated encyclopedia, this would most likely be the style pictured. Immortalised by Marlon Brando in the seminal film The Wild One (above), this classic motorcycle jacket features an angled front zipper, wide lapels and plenty of buckles and zips. Best worn with slim black jeans and Chelsea boots.
Bomber
Of all the leather jacket styles out there, the bomber is probably the most casual. This makes it an excellent entry point for those who perhaps feel a little self-conscious about venturing into the world of leather. Pair it with selvedge denim and white sneakers for a simple everyday outfit.
Cafe Racer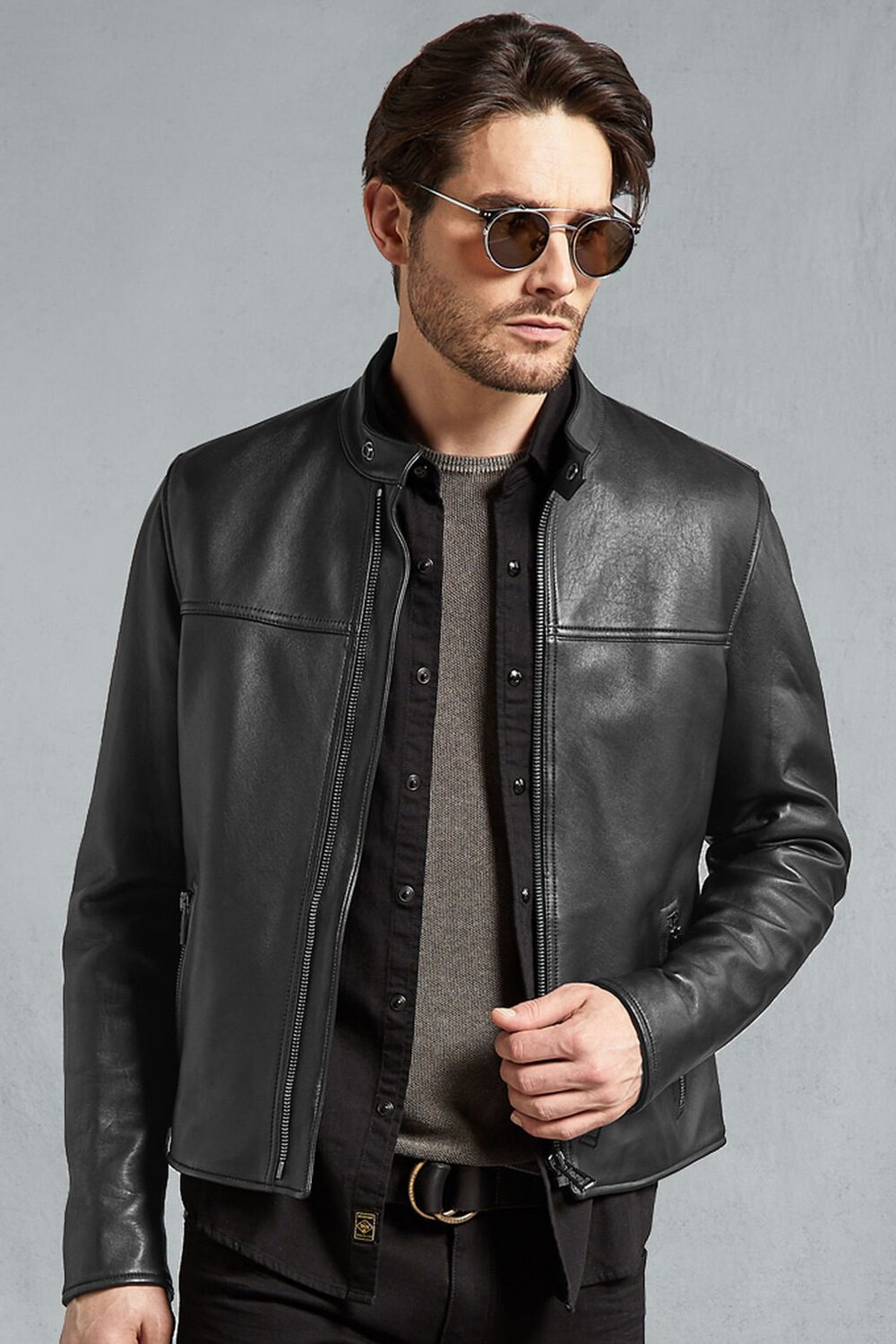 So-called due to its links to motorcycle racing, the cafe racer is on the more minimal end of the leather jacket style spectrum. Featuring a stand collar, front zip and overall uncluttered design, this clean-cut classic is the perfect accompaniment to wool trousers, knitwear and Derby shoes.
Flight
While very similar to the bomber in terms of looks, the flight jacket carries the added bonus of a shearling collar that was originally designed to keep World War II pilots warm when flying at altitude in open cockpits. Be warned though, the addition of thick shearling and a lined inner make it a winter coat first and foremost. If you're looking for something you can wear all year round you might be better opting for something slightly less bulky.
Utility
The main difference between the utility or "fatigue" jacket is its increased length and front pockets. It's a countryside classic and as timeless as it is functional. A laid-back all-rounder that can take you from autumn through to summer and beyond.
The Best Brands For Leather Jackets
When it comes to leather, you want to buy from a brand with a pedigree. This is far from one of the cheapest purchases you'll ever make, but if you pick your jacket wisely it will be one of your most worthwhile investments.
Belstaff
With a background in motorcycle apparel, Belstaff is one UK brand that really knows its way around a good leather jacket. These belted beauties have been worn by everyone from David Beckham to Brad Pitt, further solidifying the label's iconic status. And if it's good enough for them, it's good enough for us.
AllSaints
AllSaints' grungy, moody aesthetic lends itself perfectly to the leather jacket. This considered it shouldn't come as much of a surprise that the London-born brand is known for producing some of the sleekest and most stylish options to be found. Look out for cropped cuts, distressed finishes and plenty of attitude.
Saint Laurent
If money is of no concern in your hunt for the perfect leather jacket, you'd struggle to find better than Saint Laurent. The French fashion house's biker jacket is one of the most iconic pieces of premium menswear there is, boasting buttery-soft Italian leather, a slim-fit silhouette and luxurious satin lining.
Schott NYC
Schott's "Perfecto" leather biker jacket was the garment that started it all. Worn by Marlon Brando in The Wild One (above) it quickly achieved iconic status and retains it to this day. If you're looking for the original and best, Schott is the brand to buy from.
Dunhill
Since 1893, Alfred Dunhill has been one of the leading names in British luxury leather goods. The label operates from London, where it began life as a saddlery business before moving into apparel. Today, it's known for producing some of the finest British-made leather jackets to be found.
Reiss
At the high end of the high street is Reiss, a British clothing chain with a knack for hitting the sweet spot between fashionable and timeless. This makes it a solid choice when it comes to buying a reasonably-priced leather jacket that doesn't compromise on style or build quality. Expect minimalist designs, form-flattering cuts and premium materials as standard.
Acne Studios
Scandi styling and leather jackets are a match made in style heaven, which is what makes Acne Studios' selection so appealing. The label has applied its own brand of quirky minimalism to this menswear essential and the results speak for themselves.
Caring For A Leather Jacket
A leather jacket is a true investment piece, but if you want it to last you'll need to make sure to care for it properly. Thankfully, that's rather easy to do.
All you really need to keep that leather clean, soft and supple is a cloth, some water and a natural leather conditioner, free from colouring or nasty chemicals.
First, remove any dirt or marks using the cloth and a bit of water. Once that's done, use another cloth to apply a small amount of the conditioner to the fabric, working it in using circular motions. Repeat this across the entire surface of the garment until it's suitably nourished, then remove any excess with a paper towel.