Talking Shop: The UK Clothing Stores All Stylish Men Should Visit
In the age of COVID, lockdowns and online shopping bombardment – where every utterance on Whatsapp somehow results in a targeted ad on Instagram – it's easy to forget that real-life shops still exist. Which is a shame because, in reality (literally and metaphorically), bricks-and-mortar stores – when done properly – offer an experience that online will never be able to match.
Granted, online will likely be cheaper due to lower overheads, but in-person shopping has its own unique benefits, too. For one, the passionate owners and employees at the independent retailers listed below actually know what they're talking about, having vast fashion retail experience built up over decades of real-life engagement with customers. Meaning they'll be able to provide specific, tailored advice on what will (and won't) look good on you.
More often than not they'll also make you a cup of coffee or tea (some will even grab you a beer) and talk you through the latest garments in stock, showing you how to combine pieces, providing insight into what you're buying and explaining why it's actually worth the money. Some of them will even go above and beyond to get items altered for you as well as offering other personalised services and loyalty bonuses.
So, next time you're nearby, drop in on one of the names on this list. You won't be disappointed.
Canopy – Derby
At the heart of Derby's stylish Cathedral Quarter on Sadler Gate you'll find Canopy; an independent mens (and womens) clothing and lifestyle store, founded in 1992.
Canopy boasts an expertly curated selection of the best menswear brands that aren't easy to find elsewhere. And its worth noting, plenty of stock of everything they retail. You'll also find first class customer service, provided by Canopy's knowledgeable team. The aim is to constantly evolve with new brands, new collections from familiar brands, and new offerings – so you'll always find something interesting and develop an urge to return, frequently.
Canopy offer its wares online but the focus is its store on Sadler Gate soon, on Derby's historic street which has seen hundreds of years of retail and we hope it will see many more.
7 Sadler Gate, Derby DE1 3NF; 01332 205058
Doherty Evans & Stott – Manchester
Our favourite thing about Manchester's Doherty, Evans & Stott is the chaps that run it. In the same way you shouldn't trust a barber with a mullet or a skinny baker, you should expect a certain sartorial standard from your favourite menswear store. And at DE&S – no matter when you visit – the guys in charge are dressed to the nines. They are living, breathing testaments to the Italian-inspired tailoring with a British heritage twist that they deal in.
Made-to-measure and bespoke tailoring services are available along with a host of perfectly curated capsule wardrobe essentials from the likes of Aspesi, Caruso and Private White VC as well as footwear courtesy of Crockett & Jones and Tricker's. Consider it a little pocket of Pitti in Manchester.
64 Bridge Street, Manchester, M3 3BN; 0161 835 3245
Union 22 – Liverpool
Union 22 is the natural progression of a city's love of casual culture and luxury brands. Helmed by Liverpudlian fashion retail stalwart John Paul Cooper, Union 22 is a luxury menswear boutique stocking the finest Italian and European brands with an emphasis on quality materials, timeless style and a mature approach to leisurewear.
A host of athleisure titans including Z Zegna, Ermenegildo Zegna and Corneliani sit alongside British heritage labels like John Smedley and Cheaney, whilst signature pieces from the likes of Brioni, Santoni and Lardini provide opportunities to really splash out. Needless to say, the guys offer scouse hospitality in abundance, so if a trouser leg needs altering or a particular size is required, leave it with them and they'll sort it in no time.
Union House, 23 Victoria St, Liverpool, L1 6BD; 0151 236 5777
John Simons – London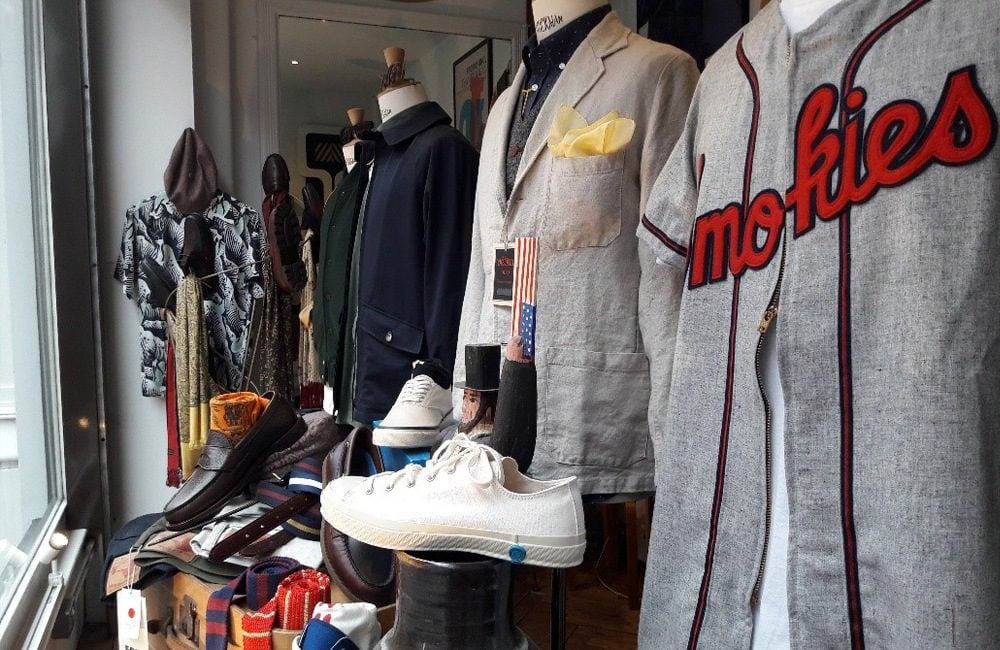 Not many shop owners become the subject of their own namesake documentary, but with John Simons a film about his iconic and influential shop was inevitable. Founded in 1955, John Simons is a purveyor of all things mod, essentially bringing the Ivy League preppy look to London and subsequently having a huge influence on the dressing habits of generations to come. Now in Marylebone, the shop still deals in the finest modernist essentials.
Stocking the likes of Astorflex, Paraboot, Pendleton and Penfield amongst others, John Simons is the perfect place for adding a modish quality to your wardrobe.
46 Chiltern St, Marylebone, London, W1U 7QR; 020 3490 2729
Son of Stag – London
If you're in the capital and want to source the finest-quality denim from people that know their jeans, head over to Brick Lane and drop into Son of Stag. It's as easy as that. Stocking serious raw denim from a host of Japanese brands – as well as various garments inspired by classic 1950's Americana and rugged workwear – these are hardwearing pieces that will likely outlast you.
Wonderfully curated, with a distinct East-meets-West feel, the store is a joy to spend time in. If you get the chance, have a conversation with owner Rudy Budhdeo about a lifetime in denim and his alterations shop around the corner. From skateboarding, denim-clad CEOs to forensic stitch-count denimheads – the man's got some stories to tell.
9 Dray Walk, Spitalfields, London, E1 6QL; 020 7247 3333
All Blues Co – Leeds
A visit to The Corn Exchange is a must if you're in Leeds and among the various independents tucked into its circular perimeter is the beautifully arranged All Blues Co. Purveyors of distinct American heritage goods and apparel, there's gems to be had here for all wardrobes and styles: robust boxy-fit T-shirts from niche Korean brands, Breton-striped tops in substantial cotton and heavy work jackets and cardigans all bring to mind images of Steve McQueen, JKF and James Dean's most stylish moments.
Ask for Mano and he'll look after you.
Unit C3c, Corn Exchange, Call Ln, Leeds, LS1 7BR; 0113 244 1022
Oi Polloi – Manchester
You can't go to Manchester without dropping into Oi Polloi. Well, we can't anyway. Long-term purveyors of beautiful clothing and genuinely pleasant and invested staff, we inevitably go in with way more money than we leave with. With a brands list that reads like a who's who of contemporary fashion, with some classics and streetwear nods thrown in for good measure, Oi Polloi will revamp your casual wardrobe no problem.
Make the most of their summer sale – there are gems galore, but you've got to be quick.
63 Thomas St, Manchester, M4 1LQ; 0161 831 7870
The Hambledon – Winchester
What a delightful store The Hambledon is. The people of Winchester should be very proud (which we're sure they are). The brains behind this independent clearly get it – they know a man wants a space that's open, fresh and light to peruse the finest garments in peace.
Expect a laid-back, relaxing experience with lots of sneakers and excellent jackets. Not to mention experienced, welcoming staff and all of your favourite labels, including the likes of Universal Works, Norse Projects and YMC.
10 The Square, Winchester, SO23 9ES; 01962 890 055
END Clothing – Newcastle
Another menswear store with a distinct identity that is unavoidable when visiting town. Newcastle's END is a jack-of-all-trades when it comes to contemporary menswear. Niche sits alongside bread-and-butter staples; an interesting Rick Owens piece here and a classic Adidas trainer there. There's as much for the gent who wants quality wardrobe basics from the likes of Barbour, Albam and Norse Projects as there is the sneakerhead who wants to kop the latest limited-edition drop from Yeezy.
Laid out across three floors, with stylish lifestyle bits sprinkled in for good measure, it's a store any true menswear aficionado should visit at least once.
133-137 Grainger St, Newcastle upon Tyne, NE1 5AE; 01912 618 922
Dick's – Edinburgh
The minimalist layout of Dick's suggests the minimalist buying habits it's trying to encourage. Buy once, buy well – which explains their love of the Mackintosh raincoat and other quality pieces that will sit timelessly in your wardrobe, providing continues use for years to come.
Tucked away in a great space in Edinburgh's Stockbridge, Dick's has one of the best jumper collections you'll find anywhere courtesy of Harley (think thick, Donegal-style knits) and the odd Manifattura number. Elsewhere in store, you'll find some interesting bits for your home too.
3 N W Circus Pl, Edinburgh, EH3 6ST; 01312 266 220
Peggs & Son – Brighton
Peggs & Sons, down on the south coast, hosts all your favourite menswear labels and the owner, Ian, is a good bloke to talk to if he's about. A superb selection of British favourites like Folk, Grenson and Sunspel sit alongside minimal Scandinavian-inspired pieces and some other big European names thrown in for good measure.
YMC has been a fixture in store from the beginning and the whole shop has a curated feel to it, reinforcing Ian's clear vision and aesthetic.
39 Duke St, Brighton, BN1 1AG; 01273 711 847
Cruise – Glasgow
It's common knowledge that Glasgow is one of the biggest retail centres in the UK outside of London, with outposts for most luxury brands. And Cruise stocks the lot: Valentino, Saint Laurent, Celine, Burberry… you name it, they're all here.
Fashion-forward selections are arranged in a stylish space with friendly staff at hand to guide and advise. From those new Gucci loafers you've just seen in a recent fashion editorial to hard-to-get Giuseppe Zanotti holdalls, few independent emporiums can rival Glasgow's finest.
180 Ingram Street, Glasgow, G1 1DN; 03443 325 797
Liquor Store – Birmingham
Birmingham's foremost independent menswear store, a Liquor Store's multiple floors are a genuine delight to browse. This well-established independent has always been one for offering a platform for new brands – sitting alongside international names – giving an air of modernity to the place. You're almost guaranteed to find something new and exciting, every time you visit. A great place for discovery and inspiration.
No.3 The Grand, 27 Colmore Row, Birmingham, B3 2BS; 0121 236 5830