Skin/Bald Fade Haircuts: What They Are & The Best Versions For 2023
Fades have come to define contemporary men's hair. So much so that they're pretty much the default setting whenever a barber approaches a short haircut. They come in many shapes and forms – taper fades, high fades, low fades and drop fades to name a few – but the skin fade (also sometimes called a 'bald fade') is the most visually dramatic.
With its surgical precision and razor-sharp detail, it's the perfect way to bring classic cuts up to date and can be added to any short or mid-length style you could think of. Pompadours, crops, crew cuts and buzz cuts can all benefit from the skin-fade treatment, so no matter what style you're after, you can make it work.
Looking for a sharp, modern trim that's brimming with attitude yet smart enough for the office? A skin fade may well be the way to go. Here we take an in-depth look at one of barbering's sharpest fades, including who it suits and the key styles to consider.
What Is A Skin Fade?
So, we've established that a skin fade might be a good option for your next haircut, but what exactly is it?
To understand what a skin fade is, it's first important to know what a fade is in general. The best way to think of a fade isn't as a haircut, but as a haircut element that can be applied to a wide range of styles. It only concerns the hair on the back and sides of the head and is a means of blending this shorter hair with the longer hair on the top of the head. It starts off short around the ears and back of the neck, and gradually gets longer further up.
In the case of a skin or bald fade, the hair at the bottom is cut extremely short, sometimes to a grade zero or even using a razor, so that the skin is visible. This creates a high-contrast appearance from bottom to top.
Which Face Shapes Does A Skin Fade Suit?
Because it's so short on the sides, tapering upwards and outwards, a skin fade might not be the best choice for those with heart-shaped faces. It will only serve to accentuate the shape of the head and could have the unwanted side effect of making the forehead look bigger.
Individuals with long, thin faces should tread carefully too. There's no reason to rule a skin fade out, just try to avoid teaming it up with any styles where the length on top is styled upwards. Combined with the short sides, lofty styles like pompadours and quiffs will add unwanted length to the head overall, making the face appear even more drawn out.
The Best Skin Fade Hairstyles For Men
There's an endless number of ways to wear a skin fade, but there's only a handful of time-honoured classics. These key skin -fade styles will always look good and are a great place to start if you're thinking of trying a skin fade out for yourself.
Crew Cut With Skin Fade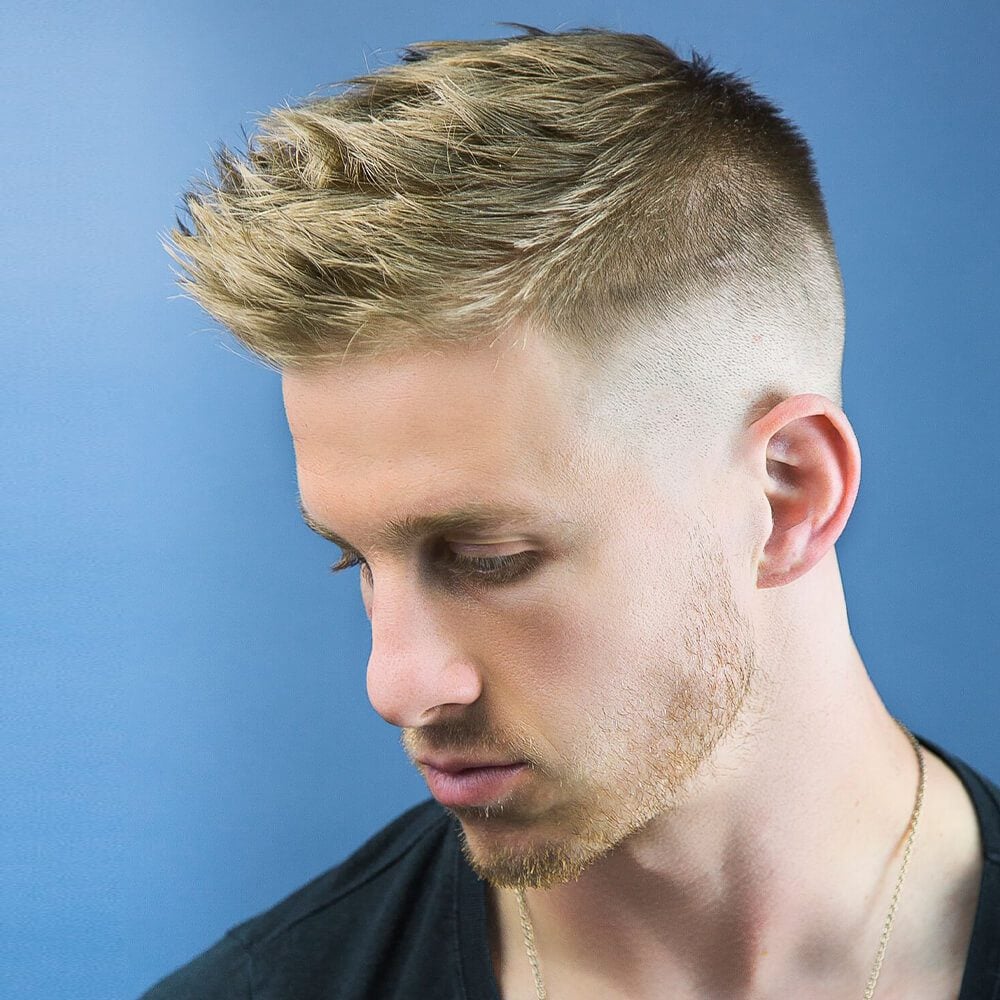 The classic crew cut isn't the most exciting haircut in the world. Smart? Yes. Practical? Sure. But badass it is not. It's the sort of haircut your grandma would approve of, and while we're not criticising her taste, it probably wouldn't hurt to spice it up a little.
By incorporating a skin fade for your back and sides, you can give this traditional trim a modern edge while still retaining the overall look. It'll still look smart without straying into boring territory, and has the added benefit of being nice and simple to style.
Slick Back With Skin Fade
The slick back is a style that's bristling with attitude. It's often worn with a disconnected undercut, which gives it a dramatic, almost aggressive look. Some people like that, but for others, something slightly softer might appeal more. A skin fade can help to achieve this.
By opting for a skin fade over a disconnected undercut, the graduation from short to long becomes less extreme, softening the overall look. It's still got plenty of attitude but delivers it with an element of subtlety. Just make sure to keep a comb on hand for any minor adjustments on the go.
Textured Crop With Skin Fade
Undoubtedly one of the most popular haircuts of the last decade, the textured crop is a tousled style that's playful up top while keeping things clean and crisp at the back and sides. Styled with a textured wax or clay, the hair is usually pushed forwards with a short fringe to the front.
The style is always cut short at the back and sides, but adding a skin fade will give it a contemporary slant. As with any fade hairstyle, be prepared to pay your barber frequent visits in order to keep things looking sharp.
Buzz Cut With Skin Fade
Haircuts don't get much simpler than the buzz cut. Named after the noise the clippers make as they skim their way across your head, this timeless cut takes the hair down to a uniform length all over, usually somewhere between a grade 1 and 4.
Adding in a skin fade is a way to make the buzz cut a little more interesting. You won't lose any of the practical benefits, but it's a sharper, more intentional look than simply strimming it all down to the same length all over. The only downside is that, unlike a classic shaved head, you'll struggle to do this yourself at home, so be prepared to give your barber a visit.
Pompadour With Skin Fade
This classic hairstyle was originally made cool by the likes of Elvis Presley and James Dean. It's still going strong today, albeit with a few modern updates, and incorporating a skin fade is a great way to give this throwback trim an of-the-moment twist.
The hair is swept up, off the face, and back over the top of the head. A blow dryer can be used to help with this and some pomade deployed to hold everything in place. The skin fade works well with this cut as it's clean, sharp and modern, but doesn't deviate too far from that traditional pompadour look.