Keep It Neat: 6 Short Haircuts You Should Try This Year
A generation or two ago a barber (for they were still called barbers then, not 'stylists') barely needed to ask a customer what he wanted. A "short back and sides" was the default cut – simple, practical, masculine and, perhaps above all, respectable. And, for men in particular, one's hairstyle was as much a mark of respectability as one's clothing.
The Evolution Of Men's Haircuts
Certainly, for much of the 20th century, men moved from one fashionable style to another, but they were all, more or less, short in length. In the 1920s it was parted and Brilliantined (an early hair styling product that gave a slicked back, high-gloss look). The 1930s saw men wear it longer on the top, but short around the ears and tapered into the neck – again, creams and pomades were crucial to the final look, not least because in those Depression-era times, the cut itself was likely to have been done at home (much like now, ironically) and was, consequently, rough and ready.
The 1940s saw the advent of the short back and sides but also saw men start to experiment with their hair, with the pompadour setting the tone for the rock 'n' roll-tinged styles of the 1950s. It was in the latter decade – with the "birth" of the teenager, pop culture and a consumer boom – that the influential likes of Elvis Presley and James Dean began to wear their hair a little longer, piled high and duck-tailed.
Fast forward to today and we have a huge range of short hairstyles to choose from. There are fuss-free military cuts, such as the buzz cut and flat top, as well as timeless styles like the quiff, which maintain their popularity generation after generation. Then there are topical influences like the current obsession with 1920s/30s Peaky Blinders-inspired styles – think Thomas Shelby's textured crop, with the top gently parted, or Arthur Shelby's disconnected undercut, scissor-cut up the sides and back, worn long enough through the tip to slick back.
Add to that a multitude of variations between these, most of which are distinguished in the details – the length and extent of the 'messiness' of the top, and the closeness of the back and sides (from gently tapered to what's called a scalp-revealing 'skin fade').
Naturally, it takes a good barber to bring these details to the fore and to work between your vague request for a "short back and sides" to find what exactly it is you want. But whatever the result, at least you won't have to deal with those split ends.
Trending Short Haircuts For 2021
To give you a nudge in the right direction, we've compiled a tightly curated edit of this year's best men's short haircuts, along with all the essential information you need in order to carry them off effectively.
The Buzzcut
As far as haircuts go, the buzz cut hasn't always had a glowing reputation. After all, it's the trim given to freshly incarcerated prison inmates, it's found its way onto the heads of a number of unsavoury subcultures and is the first port of call for film and TV producers who want to make a male character look threatening.
However, attitudes towards the buzz cut are shifting. Over the past few decades, tonsorial trendsetters such as David Beckham, Drake, Brad Pitt, Zayn Malik and Idris Elba have all sported this simple style, helping it to shift into mainstream acceptance once again.
It's good news for those who enjoy a lie in, as this fuss-free cut requires zero styling or maintenance, aside from a weekly touch up with the clippers.
To get it right, there's really no need to bother your barber. Simply set your clippers or trimmer to a grade three or four and work against the grain until hair is the same length all over.
The High & Tight With Fade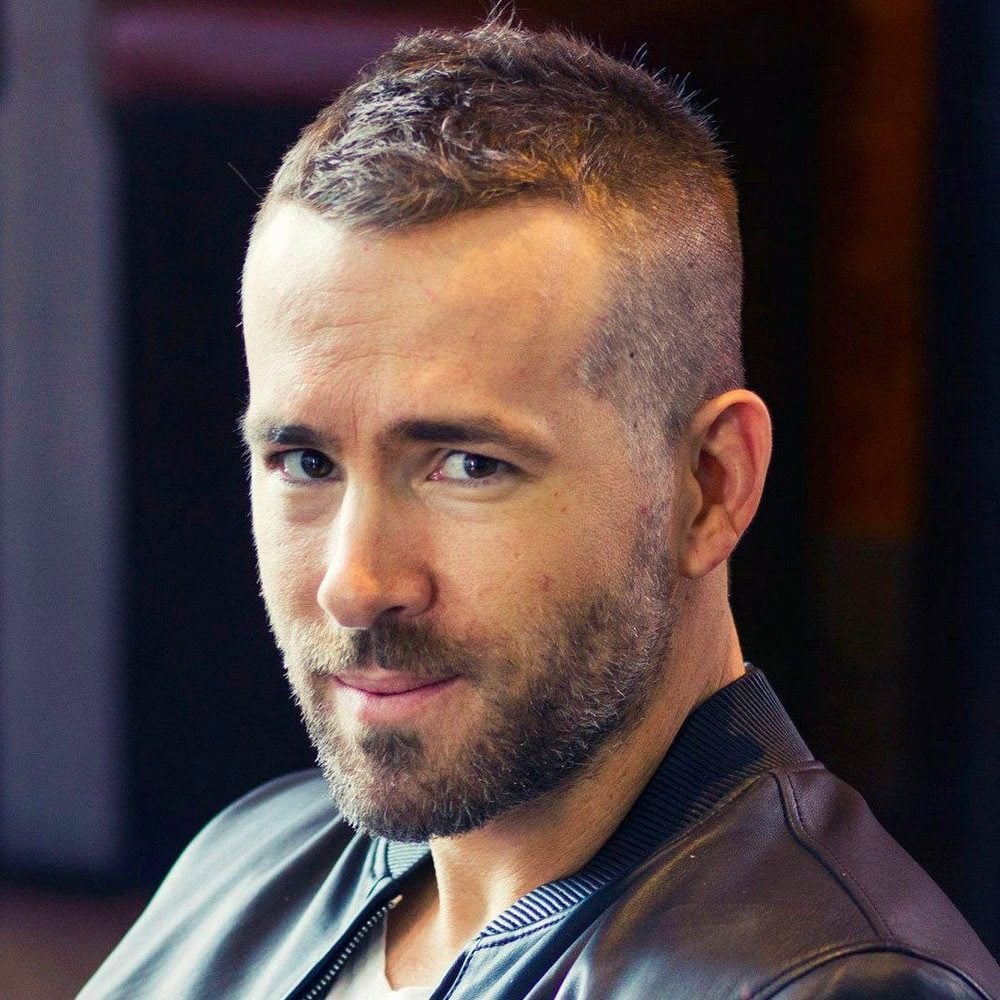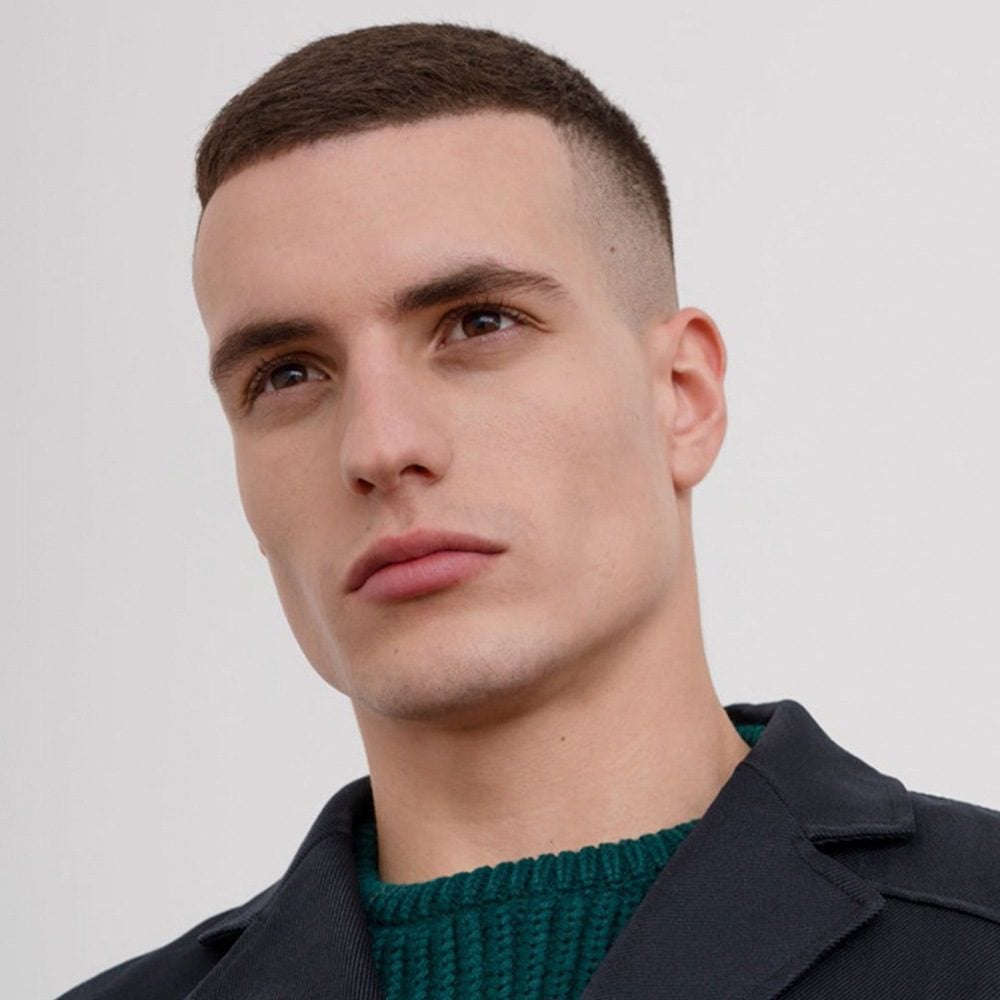 So many great haircuts have their – excuse the pun – roots in the military, and the high & right is no exception. This clean-cut yet stylish look of this particular trim is further exaggerated by the addition of a fade – a modern barbering technique that blends longer hair right into the skin as it gets further down the back and sides of the head.
With hints of the iconic high-top fades of the 1980s and 1990s, this style is particularly well suited to afro hair and is a great option for those who wish to channel a little retro cool without going full Fresh Prince of Bel Air.
The length of hair left on top can vary, and a good barber will be able to steer you in the right direction as to what will best suit your face shape.
The good news is this cut is about as low maintenance as it gets and provided you give it a comb through every once in a while, there's very little you'll need to do in order to keep it looking good.
The Drop-Fade Pompadour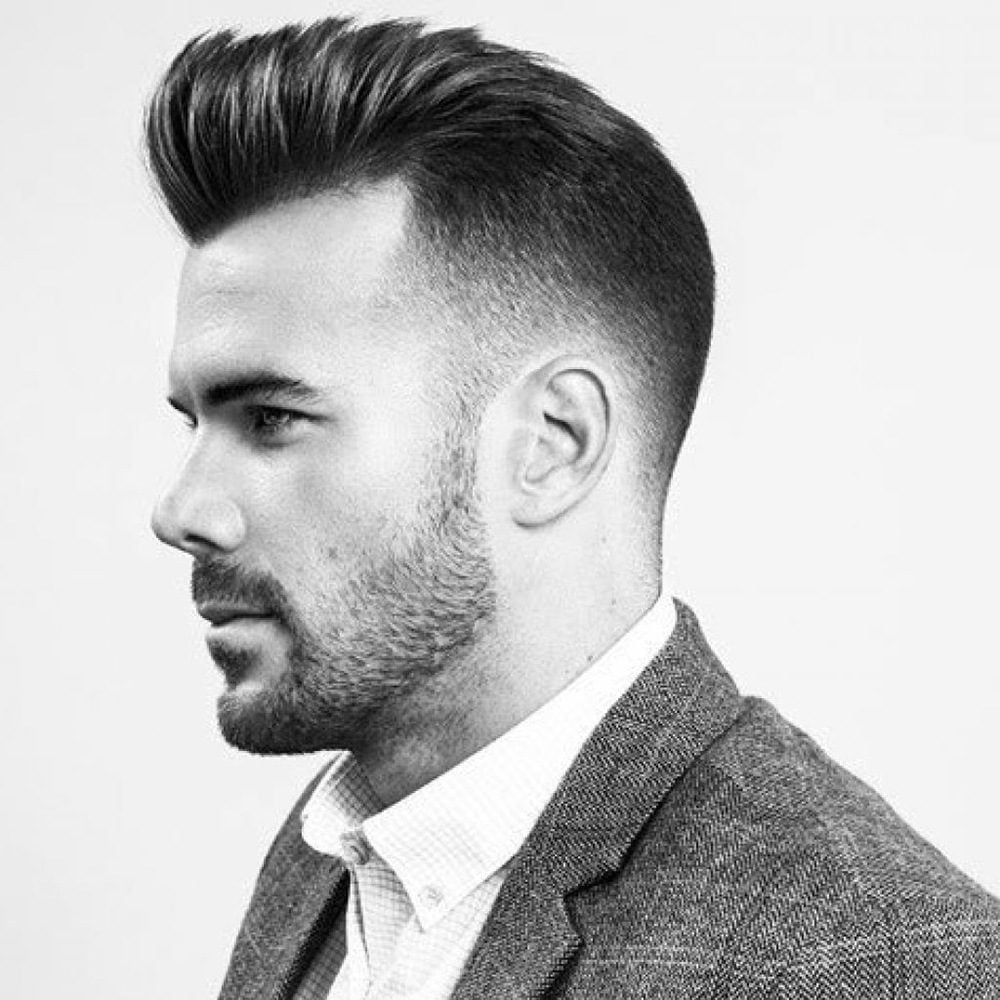 The pompadour's history can be traced back for centuries, but today's version first gained popularity in the 1950s off the back of the rock 'n' roll movement.
Even more recently, this iconic cut has been updated further still, with barbers employing advanced trimming techniques to make this throwback style as future friendly as possible.
The addition of a drop fade accentuates the flowing shape of the pompadour, dropping off behind the ears and around the back of the head.
Again, a photograph is essential when asking for this particular cut, but if your struggling to find one, just ask for a pompadour with a drop fade and your barber should know what you mean.
Styling wise, blow-dry into shape and then comb the hair back using a decent amount of pomade to hold it firm.
The Crew Cut
Next to a buzz cut, the crew cut is about as basic as a short haircut can get. It's the cut you'll likely receive at a bare-bones barbershop when you ask for a "short back and sides", and while that may not be the most exciting thing in the world, worn right, this timeless trim can help to balance out your face shape and enhance your bone structure, and has the added bonus of being relatively low upkeep.
To get the look, simply ask your barber for a classic crew cut and they'll know exactly what you mean. It should be styled by working a small amount of paste or clay into the hair on top to create a matte, textured effect. Then it's simply a case of paying your barber a visit every few weeks to keep things in check.
Thanks to its low profile, the crew cut will work well with most face shapes, but rounder faces, in particular, will benefit from the slimming and elongating effects of the closely cropped sides and additional length on top.
The Textured Crop
Period drama Peaky Blinders has a lot to answer for when it comes to men's fashion trends, and while we're unlikely ever to endorse tweed flat caps and pocket watches, what we can get on board with is the haircuts.
At first glance, it may appear that Cillian Murphy is the leading man, but the real star of the show here is his haircut. The textured crop – now often referred to as simply a "Peaky Blinders haircut" – is the defining trim of the past five years. Its popularity has been unprecedented, and with its tousled yet neat appearance, it's not difficult to see why.
To make sure you get exactly what you're after, the best course of action is to take a photograph to show your barber. That way there'll be no unpleasant surprises when you check the mirror at the end of your session.
To style, use a small amount of pomade, running it through from roots to tips to add texture and then pushing the hair forwards.
The Ivy League
The Ivy League has been around for countless decades and has never once fallen from favour. It's good looking, but also neat, tidy and proper. In short, this is the sort of haircut you could take home to meet your grandparents.
Think of it as a crew cut grown out slightly. The back and sides usually employ a fade from short to slightly longer and the top tends to be worn in a side part. It's a style that can be dressed up or down, making it a solid versatile choice in the hunt for a new haircut.
Chances are your barber will know exactly what an Ivy League haircut is, but again, it's best to take a picture along showing exactly what you want.
To style, use a light wax and comb the side parting into place. For longer hair, you can achieve more natural results from blow drying the hair into shape from wet.