Timeless Trims: 7 Of The Coolest Men's Haircuts Ever
What makes a cool men's haircut? It really depends on your definition of the word "cool". To us, "cool" isn't necessarily reflected in the latest fad, or what Hollywood's current wave of top-tier celebs is sporting. It goes much deeper than that.
Cool is about timelessness. It's about nonchalance. And most of all, it's about confidence.
The coolest men's haircuts, by this definition, are the ones that have stood the test of time, remained stylish throughout, and have done so without making a song and dance about it. These are trims that will always have cool on their side, not just for one season.
Here are seven such haircuts, along with what you need to know in order to carry them off.
Buzzcut
What is it?
Put simply, the buzzcut is any cut where the hair has been taken down to the same length all over, using hair clippers. It's low maintenance, slick, and comes with the added benefit of making you look a bit edgier.
Notable wearers
Tom Hardy
Idris Elba
Justin Timberlake
Who does it suit?
Everyone. Although square and oval faces will see the most benefits.
How to get it
It's going to be a real challenge to find a barber who doesn't know what a buzzcut is, so just ask for one. You'll likely be asked what "grade" you want, which means the guard length used on the clippers and therefore the amount of hair left behind. Starting at around a grade six is a safe way to do things. If it's too long, simply ask for a little more to be taken off.
French Crop
What is it?
A true classic, the French crop earned its cool stripes as a cornerstone cut of the mod subculture. It's composed of short, tapered sides and a slightly longer top with a noticeable fringe. It tends to be worn choppy and textured.
Notable wearers
Cillian Murphy
George Clooney
Dermot O'Leary
Who does it suit?
Good news for those with round faces. The short sides and a textured top will help to balance out your bone structure, slimming the sides of the head without adding height to the top.
How to get it
For a modern spin on this timeless trim, ask your barber to combine it with a disconnected undercut. This is a style popularised by TV's Peaky Blinders and is a true modern classic. It's always best to take a photograph of exactly what you want along with you though, just in case.
Twisted Afro
What is it?
Essentially, it's exactly what it says on the tin. That is an afro where the hair has been twisted into short dreadlocks. It can either be the same length all over, employ a slight taper to the back and sides, or even be worn with a fade to add contrast.
Notable Wearers
Donald Glover
The Weeknd
Jay Z
Who it suits
Who this type of cut will work best for depends largely on how it's worn. With a fade or taper to the back and sides, it will work to balance out round faces, adding height. Meanwhile, worn a uniform length all over, it's a great option for those with square or rectangular bone structures.
How to get it
First off, you're going to have to grow your hair out a little. Then it's a simple case of explaining to your barber that you want a twisted afro or even showing him a photograph to ensure there are no awkward post-trim mirror moments.
Pompadour
What is it?
On paper, the pompadour sounds like something that might have stuck around for a season or two before everyone started laughing at it. However, it's been around now for well over a century and continues to keep its cool year after year, thanks to frequent tweaks and updates. It's a combed-back style, featuring longer length on top that is styled up and back to create dramatic volume at the front.
Notable wearers
Elvis Presley
Bruno Mars
David Beckham
Who it suits
Due to the often extreme height created on top, this is a cut not best suited to those with long or rectangular faces. Square, oval and round faces, on the other hand, go wild.
How to get it
Given the pompadour's enduring popularity, chances are you barber will have dished out a fair few of them in his time. Simply, ask for a pompadour or show them a picture and you can't go far wrong.
Where styling is concerned, it's best to blow dry freshly-washed hair into shape using a vented brush. Apply a root booster powder prior to this if you require extra hold or volume. Then, apply a good amount of pomade and comb everything neatly into place.
Slicked-Back Undercut
What is it?
The slicked-back undercut is undeniably a modern trim and a hipster staple. Nevertheless, it's one with staying power. And it just looks great, too. It features tightly clippered hair to the back and sides that creates a 'disconnect' with the much longer hair on top. This length is slicked back almost flat against the head.
Notable wearers
Nick Wooster
Brad Pitt
Arthur Shelby (Peaky Blinders)
Who does it suit?
This style has certain similarities to the pompadour, yet the lower height on top makes it better suited to longer faces. In short, it works for pretty much every face type.
How to get it
First things first, you'll need to grow your hair out quite long on top before you get anywhere near the barber's chair. Once that's done, take a picture along with you and let your barber get to work.
In terms of styling, just grab your chosen hair product and work it through the hair on top before coming it back and into place.
High And Tight
What is it?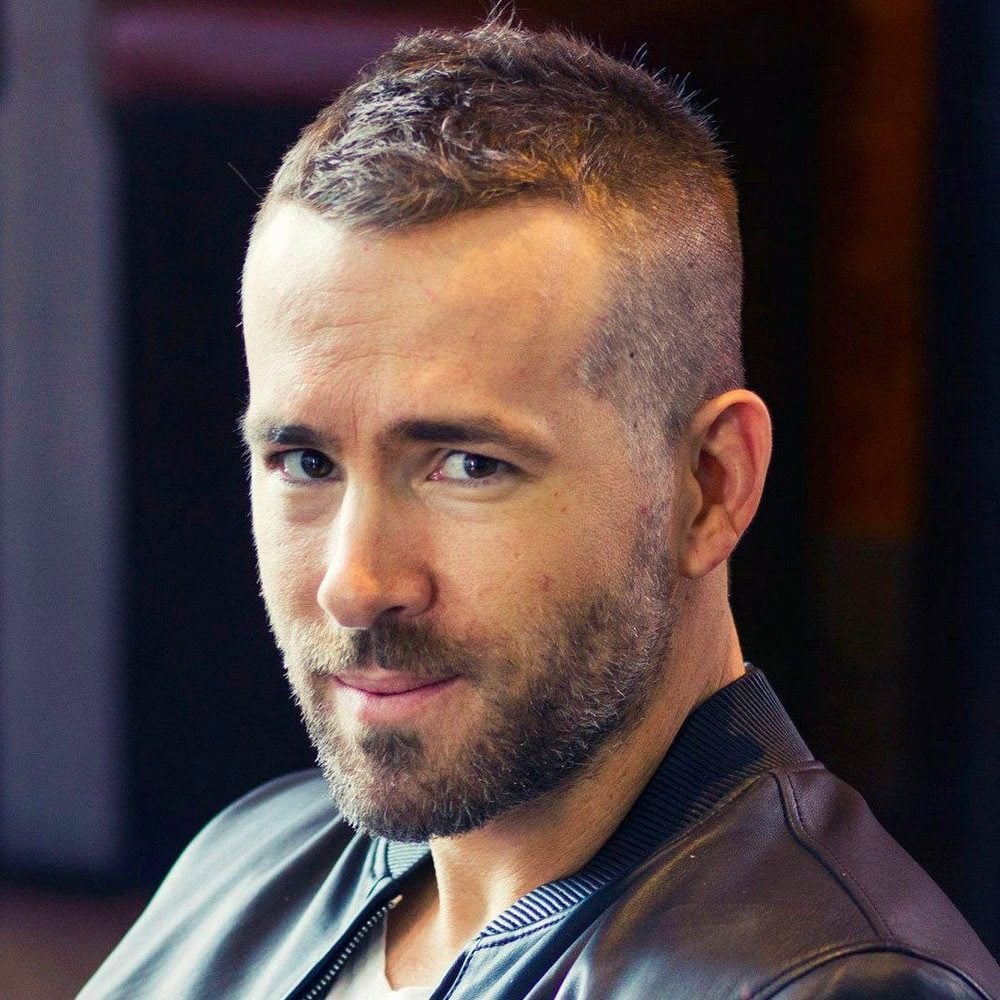 A classic military haircut, the high and tight hasn't always been what you might describe as cool. Conservative, yes. Something a bad-natured cop might wear, probably. Cool, definitely not. However, times have changed and thanks to a few tweaks and a long line of celebrity wearers, this sensible trim has earned its stripes.
Notable wearers
Ryan Reynolds
Conor McGregor
Drake
Who it suits
Everyone
How to get it
Ask your barber for a modern take on this classic cut by implementing a skin fade to the back and sides. Styling-wise, it couldn't be more straightforward. In fact, if the hair is short enough on top, there's really nothing you need to do other than get it touched up once every fortnight to keep things neat and tidy.
High-Top Fade
What is it?
Also known as a 'Cameo cut', having been popularised by the funk/early hip-hop band of the same name, it consists of a fade to the back and sides while the hair on top is left much longer and cut flat on top. It has become a symbol of hip-hop's golden age and the 1980s in general.
Notable wearers
Cameo
Will Smith
Iman Shumpert
Who does it suit?
Square and rectangular face types would be best to steer clear of this particular trim. The harsh, angular shape and added height on top will only accentuate squareness and length of the face.
How to get it
To bring this trim up to speed for the modern age, it's a good idea to reduce the height on top slightly. Have your barber take it down in stages until you reach a length you feel comfortable with.
Styling wise, you'll need an afro pick and a small amount of pomade, then simply tap it into shape. Be warned, though, weekly trips to the barber are a prerequisite if you want to keep the overall shape looking sharp.