The Best Medium-Length Hairstyles For Men: 43 Cuts To Try For 2023
Not too long, not too short, but just right. Had Goldilocks found herself in a barbershop rather than a bear's house, we can say with some confidence that she would've opted for a medium-length hairstyle.
Occupying that sweet spot between long-and-flowing and cropped-and-conservative, a medium-length cut lends a bit of rock 'n' roll flair without you routinely being mistaken for a woman from behind. And now's the perfect time to make the leap. Mid-length styles have been finding their way onto the heads of some of the world's biggest tonsorial trendsetters, further bolstering their already-considerable style credentials.
But where to start? For many of us raised on short-back-and-sides cuts, the mid-length thing is new territory. What are the key styles? How should you style them? And how can you convey the image in your head to the person hovering over it with a pair of scissors?
To answer all of the above and more, we've put everything you need to know about medium-length hairstyles in one handy place. Browse the tips and our well-stocked gallery to point you and your barber in the right direction.
Key Medium-Length Hair Terms
First, let's get the barbershop lingo on point. Understanding these terms will help you refine what it is you actually want. Plus, less guesswork for the barber is usually a good thing.
Choppy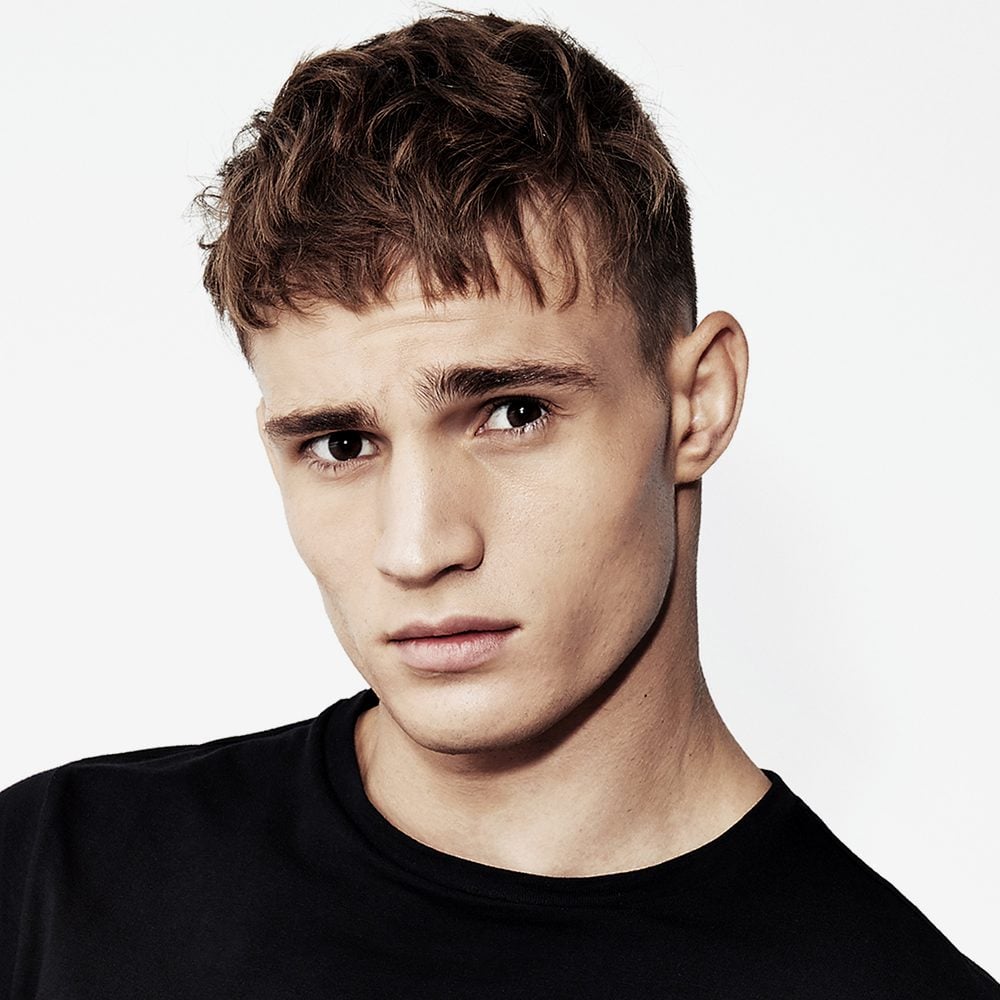 When your stylist cuts chunks of hair in a defined yet uneven or asymmetrical pattern, this is referred to as being 'choppy'. It's a technique used primarily in medium to longer length hairstyles and is used to create depth and texture.
Messy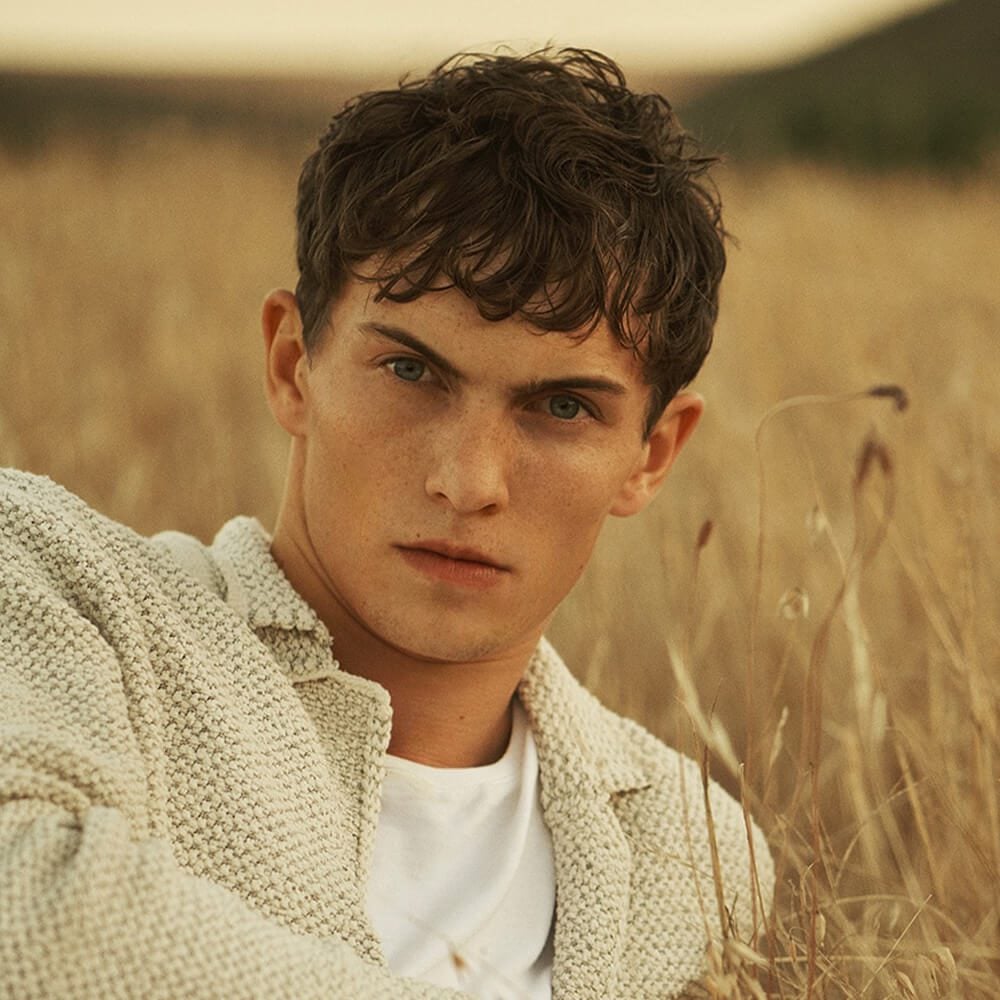 This one needs less translation. A messy cut has been styled to look rough, tousled or just a little unkempt. Bed hair, beach hair… whatever you call it, it's a popular way of wearing mid-length locks. You could say it's perfectly imperfect: a good way to add character to an otherwise simple cut.
Taper
The taper is a barbering technique most commonly used in medium-length hairstyles whereby two different lengths of hair are blended together using either clippers, scissors, or a combination of the two. It results in a smooth gradation between long and short where the back and sides blend into the hair on top.
Fade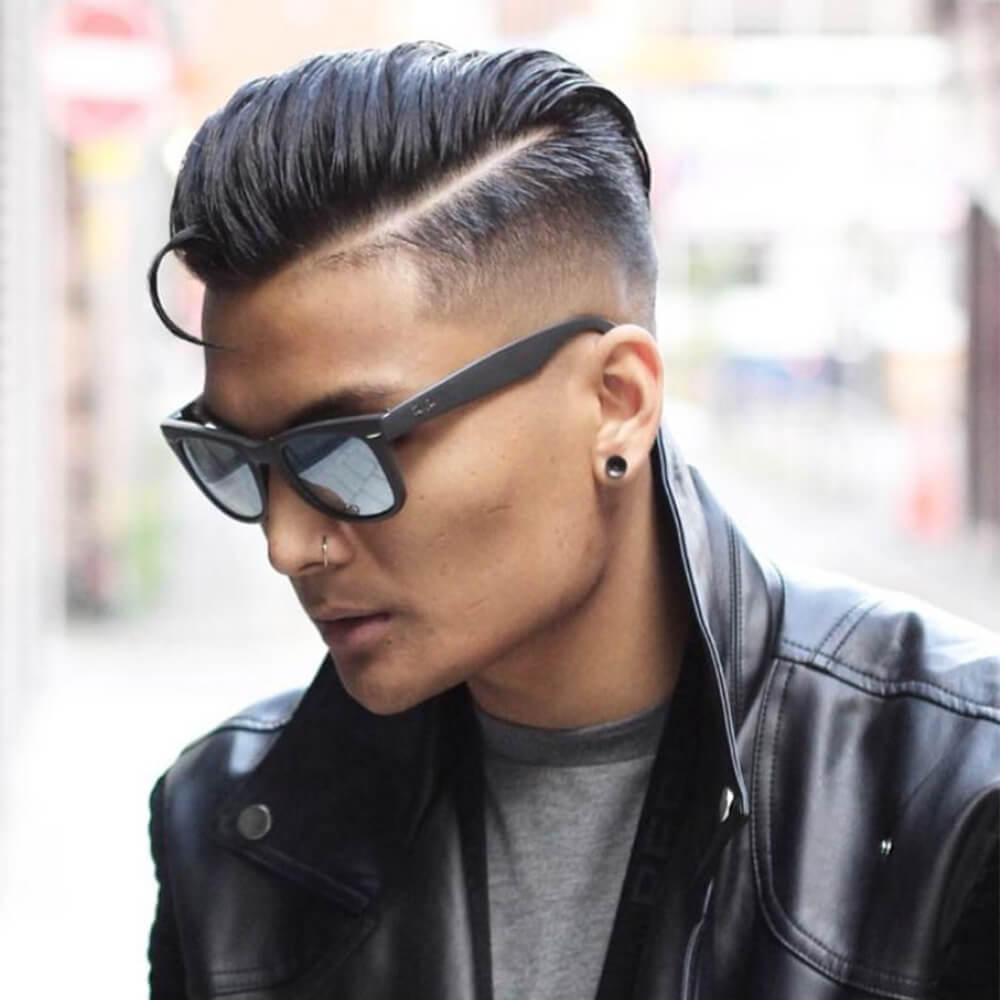 Like a taper but shorter and performed using clippers on different grade settings. It's more common in shorter styles, but adds some drama to mid-length cuts too. Particularly if there's an undercut involved.
Taper Fade
Pretty self explanatory. A taper fade is a combination of a taper and a fade which blends the very short hair at the back and sides of the head to much longer hair on top without it looking disconnected.
Undercut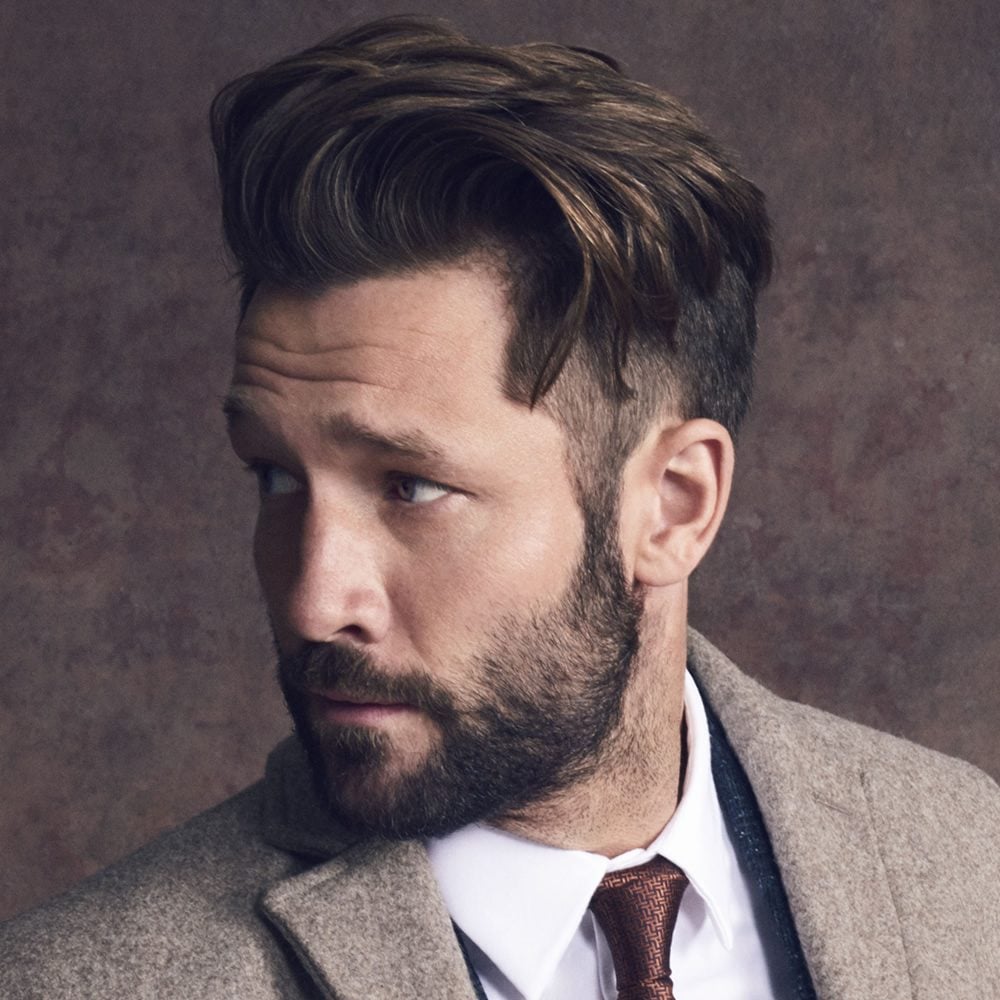 The undercut has been around for decades but it's also one of the standout hair trends of the last 10 years. It involves the back and sides cut short while the hair on top of the head is left much longer. It's often paired with a taper, but can also be worn disconnected. Speaking of which…
Disconnect
When a style is referred to as 'disconnected' it means there are two distinct lengths of hair which are not blended together in any way. Short at the back and sides, long on top and no taper or fade for graduating between the two.
Picking A Medium-Length Hairstyle For Your Face Shape
Not every face suits a man-bob. A medium-length hairstyle can make one person look like the King in the North and the next like his jester. To ensure you end up as the former, take a long, hard look in the mirror. Because your face shape is key.
Long face and big forehead? No problem. Avoid styles where the hair is brushed up and back off the face and opt instead for a textured style with a fringe. Forgoing the added height will flatter your features, putting everything in better proportion.
For very round faces, the opposite is true. Lofty cuts with length on top, such as brush-ups and messy, tied-back styles will help to balance out a circular face by adding height. For bonus points, keep things short and neat and the sides.
Anyone with a heart-shaped faces should steer clear of anything that draws too much attention to the forehead. Instead of pompadours and quiffs, go for loose, messy styles.
As always, those blessed with an oval-shaped face will suit pretty much anything the barber can throw at them, within reason.
Key Medium-Length Hairstyle Trends
Mess Is Best
Wavy, messy, mid-length locks are in, mainly because Timothée Chalamet is doing it. The look centres around volume and texture, and works best with thick heads of hair. You can fake it with a hairdryer and a lot of sea salt spray but for best results, ask your barber how far your can take it.
Keep It Loose
In the world of short hairstyles, the military-rooted high and tight cut has been having a bit of a moment, with king of hair trends David Beckham jumping on it. Where mid-length hair is concerned, however, it's all about low and loose. Loose curls, loose quiffs, loose strands hanging nonchalantly over the forehead a la Alex Turner – whatever form it takes, it's always achingly cool and it needs a bit of length to make it work.
Off Your Face
Wearing the hair up and off the face is one of the best ways to style mid-length hair. Think classic cuts like the pompadour, the quiff and the slick back. But be wary: as mentioned, if you constantly find yourself deflecting why-the-long-face jokes from friends, the added loft these sorts of styles bring to the table probably isn't doing you any favours.
Mid-Century Madness
Menswear might have been undergoing a 1990s revival for the last few years, but where hair is concerned, it's all about the 1950s. From super-tight fades with polished side partings to lazily brushed back pomps, these throwback cuts are dominating barbershop chatter. It's no wonder: they're stylish, timeless and brimming with rock 'n' roll attitude.
Maintenance & Styling
Keeping a mid-length cut looking its best requires a lot of homework, but it all starts in the barber's chair. Get some tips and advice from the professional cutting your hair about how best to maintain your style. They'll offer you specific advice based on your hair type and the style you've selected. Generally speaking though, you'll need the following: a vented brush, a good blow dryer, pomade or wax (depending on the finish you want), some sea-salt spray and a comb.
It's also important to make regular trips to the barbershop to keep things in check. This way you'll just need a quick trim and tidy every time rather than having to get the whole thing done from scratch after several months of growth.
Key Medium-Length Hairstyles For Men
Pompadour
The Elvis. An icon of the 1950s and a stone-cold classic ever since. The pompadour is a timeless mid-length style that boasts some serious loft. Traditionally, long hair on top of the head is brushed up and back at the front to create a large swept-back quiff. The sides are slightly shorter and brushed back behind the ears to a point at the back of your neck. For a modern variation, wear it with a fade or an undercut instead.
Loose Quiff
Similar in style to the pompadour, the loose quiff is another mid-length style with a fringe swept up and away from the forehead. The key difference is in the length at the top and the fact that the quiff is looser and often side-swept. Hair should be longer on the top than the back and sides so that the front can be pushed up off the face and styled loosely to the side. The back and sides are tapered, faded or shaved and worn disconnected.
Wavy Mop
Popularised by the likes of Timothée Chalamet and Dev Patel, the wavy mop is a laid-back, stylish cut that centres around texture, volume and length. Not too long, not too short, it's a prime example of that Goldilocks territory a good mid-length trim inhabits. It suits thick, wavy hair best but if yours is thinning then sea-salt spray is your friend.
Natural Mid-Length Afro
Sure, you could go down the ultra manicured route, but sometimes keeping things natural is the way to go. Just look to the likes of Donald Glover for evidence of that. This style shows off your natural hair whilst keeping the back and sides in check with a slight taper. For best results, always visit a barber that specialises in afro hair. Style it in place with a touch of pomade and a good blow dryer.
Slick Back
The classic slick back is the rogue of the mid-length hair world. If you see someone sporting it in a movie, you know straight away they're the villain, and yet there's still something we like about it. Think of it as a low-profile pompadour. The hair is long and styled back in much the same way, but flat to the head instead. Wear it long on the sides or bring it up to date with an undercut or disconnect.
Braids
Braids have been an evergreen trend in recent years, and the style actually dates back centuries in a number of cultures. More recently, the likes of Travis Scott, A$AP Rocky and Lewis Hamilton are among those reviving the style. Wear them loose, messy or close to the head with cornrows or a unique pattern your barber can style.
Side Part
A classic side parting with short back and sides is certainly timeless, but there's something a little bit stuffy about it. Wearing it loose and laid back keeps the style alive and up to date for the 21st century. Hair should be longish on top and loosely combed into a side parting using your fingers to finish it off. On the back and sides, a taper is the obvious choice for mid-length, but a fade can add a contemporary edge.
Straight And Layered
For fine, straight hair, this is the perfect choice. At almost shoulder length, this John Wick-approved style is definitely at the longer end of the mid-length hair spectrum, but it's low maintenance. The hair is worn in a loose middle parting and can either hang straight down or be tucked behind the ears. Add layers for depth and texture, while keeping styling products to a minimum.