7 Ways To Wear Sweatpants That Look Stylish, Not Sloppy
If the last 10 years in menswear were to be characterised by a single theme, it would be the relaxing of dress codes across the board. Within this timeframe, white sneakers became the everyday shoe of choice, the hoodie went from sensationalist tabloid headline to a bonafide wardrobe essential, and the humble tee eclipsed the collared shirt as the go-to top for men.
It's a shift that has drastically altered the way in which we dress. Casual is now king. So much so, in fact, that even something as unabashedly laid back as sweatpants are now worthy of staple status.
Until relatively recently, sweatpants didn't have a place in a man's life outside of working out or, more likely, vegetating on the sofa. To sport a pair outside of these spheres was to admit sartorial defeat.
Today, however, attitudes towards sweatpants couldn't be more different. The merging of dress codes and, in particular, the rise of athleisure has seen jogging bottoms repurposed to fit the modern gentleman's day-to-day wardrobe. Still, don't take that as carte blanche to wear a pair to your next job interview. Instead, learn how and when to wear joggers the right way with these foolproof sweatpants outfits.
All-Black Everything
If it's good enough for the high-fashion elite then it's good enough for the rest of us. Dressing head to toe in black has long been a solid move favoured by the clinically cool and it's easy to see why: it's slick, it's sophisticated, and it'll never go out of style.
A pair of sweats brings an athletic, streetwear-inspired twist to this type of look. To get it right, keep everything else relaxed and sporty – that means ditching formal Oxford shoes and button-down shirts in favour of black sneakers and heavyweight tees. On cooler days, try layering up with a merino wool hoodie and technical jacket and accessorise with a practical backpack or messenger bag.
Last but not least, ensure your sweatpants are jet black and not old and faded – you want them to seem like an integral part of the outfit, not a pair you threw on because your black jeans were in the wash.
Co-Ord Tracksuit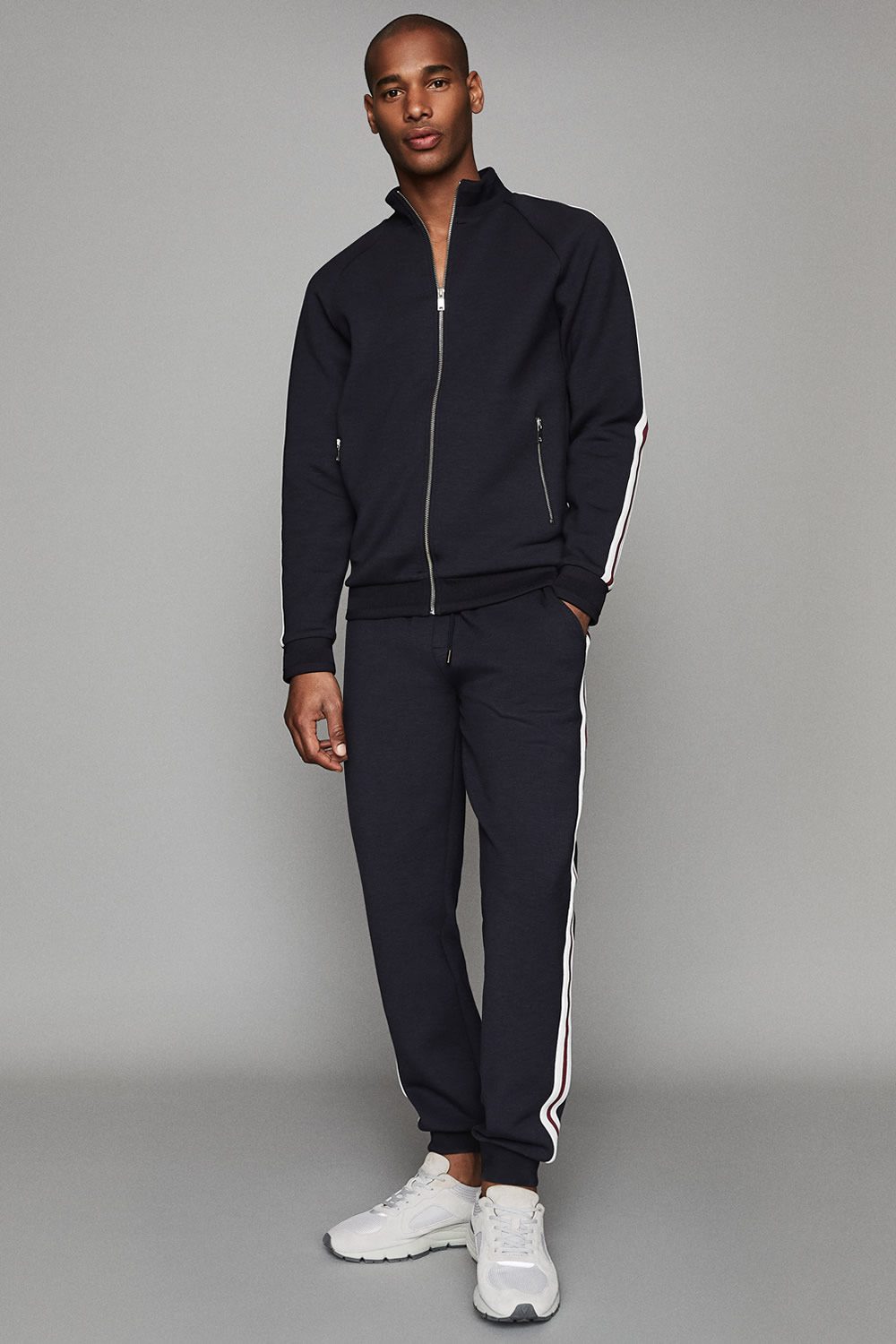 Full tracksuits aren't just for Ali G and your old high-school PE teacher anymore. The current 1990s revival and ongoing trend for retro sportswear have brought these coordinated coveralls back into the limelight. Like it or not, there's no denying it makes getting dressed a hell of a lot easier.
The first thing to note is that there really is a time and a place for a co-ord tracksuit – save it for lazy weekends and throwing on after a gym session or post-office five-a-side match.
For best results, choose something dark and free from excessive branding, then make it pop with some contrasting sneakers. A high-end pair of kicks will give the look a slightly more dressed up feel – think Common Projects or Gucci.
Casual Minimalism
Traditionally, tracksuit bottoms are a young man's game. But being able to exercise restraint when dressing oneself is what separates the boys from the men, sartorially speaking. When done right, it means that even we grownups can enjoy the merits of fashion's comfiest legwear, without it coming off as try-hard.
Simplicity is one of the most important words in menswear. To make this look work, keep it at the front of your mind: swerve jazzy prints and designer logos and focus instead on premium fabrics and good fit. Combine your tailored sweatpants with a high-quality sweatshirt, white tee and leather kicks for a pared-back outfit guys of any age can pull off.
When it comes to colour, aim to contrast top and bottom. A simple, grey crew neck will always be a winner, but other neutrals and earthy tones can work well too. For the sweatpants, it's impossible to go wrong with a deep, rich navy blue.
Lightweight Layering
Navigating the transitional months is notoriously tricky when it comes to stocking wardrobes, but sweatpants can provide a handy legwear alternative. Cosy and cuffed, they're excellent for keeping the chill at bay and – when styled with a lightweight jacket and sneakers – are a solid option for blustery weekends about town.
Opt for sweatpants in a classic neutral colourway (grey, navy or black) and team with a tonal, slim-cut T-shirt and a sporty windbreaker, bomber or coach jacket.
As far as accessories go, keep it simple. Add a well-fitting beanie into the mix if it's cold out, or a luxe baseball cap if not.
Athleisure
Nowhere in menswear is the merging of dress codes more apparent than in athleisure. This relatively recent concept mixes the best parts of sportswear with the best parts of casualwear, and the results are sublime. We're taking sofa-worthy levels of comfort from looks you can legitimately wear in the city.
However, getting the balance right is key. Look to elevate your sweatpants by countering them with smart-casual pieces. Try layering a wool overcoat or leather jacket over a smart knitted polo to banish any thoughts of the gym.
On foot, opt for a technical sneaker. Knitted styles are still hugely popular and boast superior comfort to almost any other style of shoe. Darker colourways offer maximum versatility.
High Low
Melding high-end fashion with low-key cool has become a hallmark of menswear's heaviest hitters. Dripping head to toe in designer labels can come off as a bit gauche, so mixing casual classics with the odd luxury garment is the remedy.
Pick one or two premium, focal pieces to make this style work. Outerwear and sneakers are a good place to start. These are two things it's good to invest in, so don't worry about splashing out.
Dress them down by layering with a pair of sweatpants and a crew-neck sweater or hoodie, finishing things off with some quality accessories, like a piece of leather luggage and a cashmere scarf.
Sports-Inspired
You don't need to be a fashion historian to know that jogging bottoms have their roots in athletics. Therefore it makes sense to pay homage and wear yours in a suitably sporty manner, albeit filtered through a style-minded lens.
Think high-end labels like Reigning Champ, Hamilton And Hare, and Sunspel when shopping for your sweats. They should be slim-fitting, form-flattering and reassuringly thick. Apply this mindset to the rest of the pieces, and keep things tonal to stay true to the sportswear aesthetic.
A zip-up hoodie or track jacket is an excellent option up top, while a polo tucked in at the waistband can lend things a slightly more dressed-up edge. Finish off with a pair of retro running shoes and you're good to go.