The answer to the question 'How do I shave my head?", HeadBlade has been around since 1997, and has now produced their ultimate in head grooming technology, the Limited Edition S4 Shadow.  The original HeadBlade has won many awards since its conception, and was deemed worthy of a mention in Times Magazine's "Ten best designs" in the year 2000. So how does head blade work?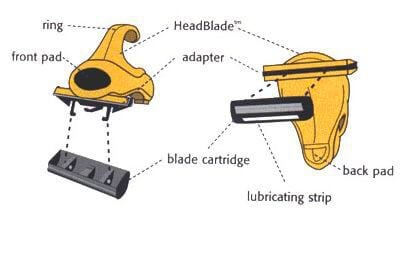 Well first off  do not be fooled by the imagery, the HeadBlade is not as big as it appears; the HeadBlade is less than 2.5″ long  and uses cartridge blades (Gillette Atra). While conventional razor's have handles, the HeadBlade cleverly turns makes your hand (and fingers) into the handle.  This gives the user (or Headblader as they have termed it) in full control of the head shave as your fingers can touch your scalp to allow a better feel for the shave. The patented suspension of the HeadBlade means you don't have to worry about the angle of the blade. In the words of the creators:
"Think of a conventional handled razor. It's like a unicycle and only touches your head at one point (where the blade is). This is very difficult to control (both the angle and pressure of the blade). Especially if your fingers aren't in contact with your scalp. The HeadBlade, in contrast, has a suspension and touches your head in two places; like a bicycle. "
Quite. While I'm not totally convinced about the analogy, you cant't argue with HeadBlade's popularity, so they are definitely onto something; HeadBlade and related products are sold at over 25,000 retailers worldwide. Here signifies the arrival of the Limited Edition S4 Shadow.
Hailed as more of a collectors item, the S4 Shadow is a similar design to the original S4 sold in 2004, but with blacked out wheels, and made out of gun-metal plated stainless steel  –  it even features a kickstand. The S4 comes complete with presentation box should you feel the need to just sit and admire its beauty, rather than use it. Normal HeadBlades start from around £15, but the S4 Shadow is available from the US for $99.
For Headblade retailers visit:
www.headblade.com